L'atelier des Saissons
Very little comes between the French and their lunch. In most villages near here, come noon a siren wails, deafening any conversation you're having and immediately, folk leave their tractors, close up their shops or put down their pens and rush to the café – it's dejeneur!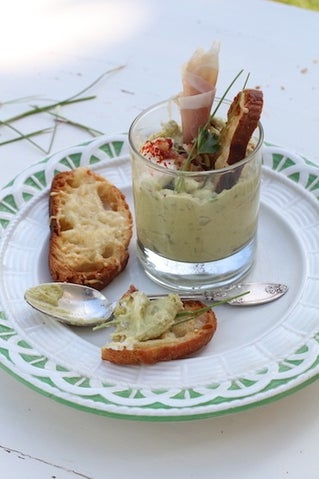 For us, living a fast life in a young country, it's hard to comprehend how here, in rural south west France, people adhere strictly to established routines such as, when you eat, and what you eat. Change is slow here in the Haute Pyrénées, which in itself is lovely, as it maintains the romantic charm of this area.
Helping change happen is the quietly spoken, young and creative, restauranteur Chloé Anzar, who is doing things differently while still remaining fiercely patriotic to the local pays, the farmers and the traditional foods the farmers manage to grow in the heavy soils in the hidden valleys here.
Five years ago, Chloe's husband, Jean Michel Lartigue, farmer and entrepreneur, was instrumental in establishing le carré fermier - the farmer's square – a co-operative of ten complimentary producers, who built their own mini supermarket in order to sell their produce daily, direct to the consumer .
Extending the co-operative's vision «faire le carré fermier dans l'assiette » - to put our food on your plate - eighteen months ago, Chloé opened l'atelier des saissons, a boutique food workshop for all seasons, where she could serve freshly cooked, local foods in a contemporary family style and of course, all sourced at the co-operative.
Chloe's chef, twenty-year-old Adrian Périssé is a charming young Frenchman, who, because he is not classically trained, talks with a polite non-interest for constrained classical French cuisine. He is a free spirit, passionate about simplicity, of cooking local foods in a lighter style; a new Pyrenean cuisine.
On entry l'atelier des saissons, welcomes you with displays of local foods on tables, in chillers, on shelves. Gathering a panier – basket – you join the queue and choose your entrée, salad and dessert, placing them in basket as you go. Chloe wanted diners to feel like they were shopping, to feel the excitement of viewing attractively arranged foods and being able to make your own choice. As you pay, you order your main course and wine (this is France) and take time to chat with the staff; there is always time to talk about food here.
Sitting at one of the eclectic assemblage of tables, you cannot escape the delightful crotchet granny squares, made into cushions, wall panels, tea cosies and column wraps that brighten up this boutique food workshop. Chloé's love of tricot and crochet is a remnant of a childhood raised in her family's wool factory and she has mischievously incorporated her love of the craft into the restaurants furnishings.
Once a month, Adrien and Chloé host a workshop night, where attendees cook their dinner in the kitchen with Adrien and dine together at the long table. We whip up créme de pois cassés, copeaux de jambon de pays (creamed split peas with ham), filet de truite rôti, puree de courg a la canelle, vinaigrette oignons rouge (roast trout, pureed squash with cinnamon and red onion relish) and for dessert nage de pomme à la vervaine (apples bathing in a pond of lemon verbena tea). Local favours, fresh ideas, tres fabuleux !