Christmas Celebration
With just over one month until Christmas, it's time to gear up to all things Christmas, and if like me, you like to bake up memories in the form of Christmas cakes, mince tarts, biscuits or fruit bread, then now's the time to plan and get mixing. Do not allow the panic of having to have tins full at Christmas get in the way of fun; make just one or two special things that will help create wonderful memories for family and friends.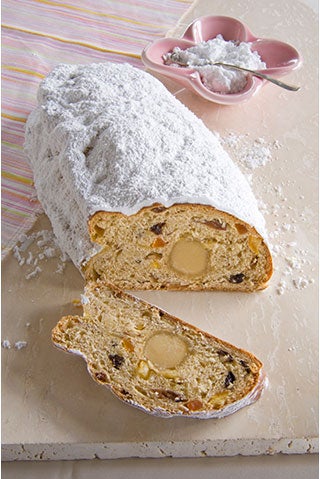 Traditional Fruit Christmas
Doyenne of food writing, Tui Flower shared this recipe with me.
Essential Rich Fruit Cake Baking Tips:
Read the recipe before beginning, as you may need to begin the day before preparing the fruit.
Check that you have all the ingredients before starting.
Prepare the cake tin before preparing the cake.The tin should be greased and lined preferably with two layers of brown paper and one of baking paper. If no brown paper is available use 3 layers of baking paper.
The lining on the inside sides of the cake tin, should extend above the top of the cake tin by 2cm.
The outside should be wrapped in 3-4 layers of newspaper and tied in place with heat-proof string. This will protect the outside of the cake from over-browning.
Have the butter and eggs at room temperature, or the creamed mixture will separate when the eggs are being added.
Old recipes call for the fruit to be washed and dried. This is not necessary today with the quality of dried fruit that we can purchase. However, it is still a good idea to wash glace cherries and dry well to remove excess syrup.
A rich fruit cake is very heavy and the mixture is stiff. This is to support the weight of fruit and nuts in the cake.
As it takes time to make and cook a fruit cake, you can prepare it one day, cover with a loose cloth and bake it the next day.
I always make a shallow indent in the centre, which ensures the cake, rises to form a level top when cooked.
Bake a heavy fruit cake in the mid-lower section of the oven.
If the cake begins to brown too much on top, cover with brown paper or baking paper. It is best not to use foil.
Allow the cake to cool thoroughly in the tin before removing. Wrap the cake securely in a double layer of greaseproof and then in foil, leaving the lining paper on the cake until ready to decorate.
If pouring on brandy or other spirits, prick the cake with a fine skewer when cold. Slowly and evenly pour the brandy or spirit over the cake. You can un-wrap and pour brandy or spirit over the cake during storage.
Rich fruit cakes are best made 2-3 months in advance of being cut. This will allow the flavours to mature and marry together and the cake will "set" firmly and cut far better.
Gluten-free Christmas Cake
Pip Russell, foodie extroadinaire from the Hawke's Bay shared this recipe with me.
Stollen
My personal favourite for Christmas. I always have a heavy hand with the rosewater!
Stollen With Papaya And Rose-scented Marzipan
Saffron Buns
Also called St Lucia's Buns, these saffron spiced Scandinavian fruit buns were once mandatory eating on St Lucia's Day, the 13th December. The buns will freeze well, and are delicious served warm with butter and accompanied with a cardamom spiced coffee.
Essential Rich Yeast Goods Baking Tips:
Rich yeast breads with their abundant quantity of butter, sugar and egg will take time to rise, so do not rush making these breads. Slow rising results in a more flavoursome finished product.
Ensure the yeast is fresh and active by sponging – that is mixing with liquid and allowing it to become frothy before adding to flour and preparing a dough – unless otherwise stated in the recipe. Rich fruit breads are expensive to make and it is heart breaking to make up a dough, only to find that the yeast was out of date and the dough does not rise.
While trendy books and chefs will call for fresh yeast, dried yeast is easy for the home cook to use and will give an excellent end result.
Rich yeast breads can be prepared in bread machines, though a better loaf will be achieved if the fruit is added by hand and proving is done at a cooler temperature. Once the mixing has finished, remove the dough, knead in the fruit and set aside in a greased bowl, covered with a clean cloth to rise.
Fruit Mince Tarts
Dried cranberries are very popular and are now available pomegranate and blueberry flavoured . They make a great twist on the mince meat and Christmas mince tart theme, especially when paired with chocolate pastry!
Christmas Cranberry And Chocolate Mince Tarts
Essential Mince Tart Pastry Tips:
Keep pastry cool. Once it becomes warm, the butter in the pastry softens and the pastry becomes greasy and difficult to handle and will collapse when baked. Keep a portion in the fridge while working.
For mince tarts, cut the base piece of pastry a little bigger than required; you can abundantly fill the tarts with fruit mince and there is plenty of pastry for the lid to be joined to, thus avoiding any bubbling fruit mince escaping during cooking and creating a sugary burning mess on your tins.
Many commercial sweet pastries have raising agents added, so do check the label. If this is the case, roll the pastry thinner before using for mince tarts, lest you end up with pastry dense tarts.
Macadamia Nut Shortbread
Shortbread is a classic festive favourite, and this recipe, sweetened with lime rind and spiced with cardamom, Queen of Spices, is a delightful variation.