Tomato Time
Knowledge is knowing the tomato is a fruit,
Wisdom is knowing not to put it is a fruit salad!
Tomatoes are our number one selling vegetable, even though technically tomatoes are a fruit. The French call them "apples of love", which may have come from an early reputation as an aphrodisiac. The tomato's history is a culinary legend full of tales of intrepid travel and suspicion about its safety.
They came to Spain from Mexico in the early part of the 16th century and in the early days there was a suspicion in Europe that tomatoes - members of the Solanceae or nightshade family - were poisonous, and they were grown as a decorative garden plant but not eaten.
The earliest known printed recipe was in an Italian book in the mid 17th century for Tomato Sauce, Spanish style, and who can imagine Italian food today without tomatoes, or for that matter a kiwi summer salad without a tomato gracing the table. The decision though, is which to choose?
New Zealand tomatoes are mostly ripened on the vine, giving them more flavour even if something is used to speed up the ripening of the crop at the end while still on the vine. Truss or vine tomatoes also come in a range of varieties and sizes and should have a more intense flavour.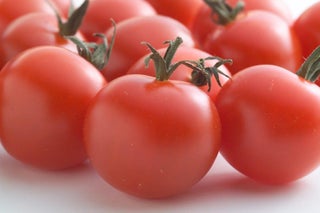 Small cocktail varieties: Sweet 100, Black Cherry, Gardener's Delight, Sun Cherry…little bite sized, intensely flavoured, sweet tomatoes. Children love them and they're ideal as a healthy snack or in the lunchbox.
Rosemary Marinated Cherry Tomatoes
Low acid tomatoes: Usually on the shelf as 'acid free, these have firm flesh, fewer seeds and are not as juicy. Generally an oval shape, sometimes misshapen, they are pinkish in colour.
Roma is a plum-shaped, rich red lower acid tomato that is possibly the best of all for Italian dishes and tomato sauces, with an intense flavour.
Salad tomatoes: Money Maker, Best Boy, Red Beacon, Russian Red.
Large, fleshy and round: Beefsteak, Delicious. Great for sauces.
Outdoor tomatoes make up a small part of the total crop and are usually more irregular in shape but may have good flavour.
Heritage tomatoes some old-fashioned varieties are back in favour and are available either at garden centres or by mail from specialist producers, some of whom also sell through farmers' markets.
Generally speaking, "standard" tomatoes are not identified by variety in supermarkets and greengrocer shops, apart from the obvious divisions. One grower who does name the varieties is "Beekist" who offer Cherry, Tangy Vine Truss, Moroccan Truss (described as large, succulent and with an old fashioned flavour), Tuscany 6 Pack, Vine Sweet Truss, Medeterrano Plum Shaped (low acid) and Belissimo.
Also, NZ Hothouse growers have Royale Vintage Harvest and sweet Grape Cherry Tomatoes in red or yellow.
Choosing tomatoes:
Pick them up, smell them…don't squeeze them!
They should feel heavy for their size, which indicates juiciness and the aroma indicates flavour…no smell, no flavour!
They should be even coloured and blemish-free.
Be careful when paying more for truss tomatoes that it's not just the truss that you're smelling, rather than the tomatoes. Generally, however, these are premium varieties, especially in supermarkets, and will probably be tastier.
Storage:
Don't put tomatoes in the fridge; the low temperature will affect the nutritional values, flavour and texture.
Take them out of the packaging as soon as possible.
If they aren't quite ripe, place them in a sunny spot till they are ready, then at room temperature out of direct sunlight.
Ripening can be speeded up by putting them in a paper bag.
Any that get over-ripe are ideal for making sauces or soups, which can be frozen for several months. Or, if they're a bit disappointing, try drying them in a low oven for 2-4 hours, halved, sprinkled with salt, sugar and pepper, and leave them in the oven overnight at the end of cooking. These are great for snacks or chopping in to salads etc.
They are also good for you – and if they don't have aphrodisiac qualities, they certainly do have excellent health benefits; antioxidants including lycopene, vitamin C, vitamin A, fibre, folic acid and some trace elements – but it's important to eat the skin as well as the flesh, since these are mostly found in the skin.
Lycopene, a carotenoid which creates the colour, fights free radicals that can potentially lead to cancer – and prostate cancer gets special mention – heart disease and premature aging.
It is also believed that cooking tomatoes increases the potential health benefits.
Recipes:
Over summer, try one of these delicious tomato recipes - Enjoy!