Magic Mustard
From warm and mellow to pungent and piquant, mustard is one of our oldest spices - outdated peppercorns - its name a reference to Anglo-Saxon times, must , unfermented grape juice and arden meaning hot or fiery. Only the seeds whole or crushed were once used, the vibrant yellow powder and prepared mustard not common until much later.
Given the three types of seeds - white, brown and black - once grew in different areas of the world (they grew wild in different climates then ), mustard has been, and is still in many cases, an essential spice in many different countries over and above Britain with its roast beef . It is used - spicing gravlax and pickling herrings in Northern Europe, flavouring sausages in Germany and adding fire to Indian curries before chilli's arrival.
Today mustard is grown in most temperate climates - Canada being the largest supplier - and multiple condiment-like variations are made from the hard-shelled, sinus-clearing seed is incredibly numerous. Given this, mustard is often over looked for the trendier pestos and pickles, when it can so easily add oomph and flavour to our everyday cooking and food.

Are you a bit confused between Dijon and French, Meaux and Mild English? While there's plethora of brands each with their own recipe and style, here's a basic overview of the differences - and it's a good idea to keep a couple of styles in your pantry; mustard is wonderfully versatile.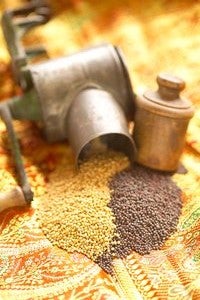 Mustard Guide
Country-named mustards:
- Hot English mustard is very hot from finely ground mustard seeds, turmeric and sugar blended with water.
French mustards:
- Meaux, or mixed grain, this mustard has a medium heat and is often blended with spices and vinegar.
- Dijon mustard is smooth and pungent from a blend of seeds and spices and wine or verjuice, the latter giving the
mustard less heat.
- French or Bordeaux mustard is darker in colour from the brown and black mustard seeds mix that's blended with grape must (unfermented wine).
German mustards tend to be milder but with a sweet and sour, slightly pungent taste. They are often saltier too.
American mustard is very mild and very sweet, with subtle spiciness; more often like a sauce.
Flavour-named mustards:
Beer Mustards – made with beer resulting in a gutsy yeasty flavour, ideal on top of a grilled steak.
Tarragon Mustard – heavily infused with this aniseedy-flavoured herb, best used with chicken and fish.
Honey mustards – more sweet and honey-scented than mustard; pair up with ham, bacon and other smoked foods.
Garlic mustard - pungent and precocious; use with red meats
Store me in a cupboard !
Mustard does not need to be refrigerated once opened – just keep it in a cool place with its lid on. The flavour may fade , but that does take some time.
Wholeseed or wholegrain mustards:
These are the same – it's just semantics and branding. Seeds are coarsely crushed and often the mustard will contain wholeseeds too. However, if a mustard is made only of seeds it usually has an over-reaching taste of vinegar and spice but not mustard. Mustard's flavour will only become pronounced once the seeds are ground and mixed with a liquid – and the flavour strength will depend on whether this is water or an acidic liquid such as vinegar, verjuice etc . Acidic liquids pause the chemical reaction and the mustard will have less heat than if made with cold water!
Ideas for Magic Mustard Moments
Mix a spoonful into sour cream to make a dip for potato wedges.
Add to a vinaigrette - it will help emulsify the dressing giving it body as well as flavour.
Mix equal quantities with butter and serve a mini dollop with barbecued sausage or steak.
Toss wholeseed mustard with tender spring peas and chopped tarragon – great hot or just warm.
Dice a banana and mix with mustard, raisins and coconut to make a great salsa- style dish to accompany grilled or crumbed and pan fried fish.
Mustard's great in a hamburger or meatloaf mix, especially if gherkins and stashes or parsley are involved.
Add a spoonful or a sprinkling to a focaccia bread dough.
A cheese scone or muffin mix is nothing without mustard in the recipe!
Add a drop or two of whisky or gin to make a mustard with panache for a steak.
Mustard and beer are best mates – try them together in a pork or beef casserole.
Cooking with Mustard
While mustard's has unique qualities for adding flavour, heat and acting as an emulsifier here are few pointers to avoid bringing out the bitterness that is in this wily spice or condiment.
Make powdered mustard up using cold water only. Hot or warm water causes the bitterness of mustard to become pronounced; it's all to do with a chemical reaction so cold only. And keep a lid on it too – it prevents a skin forming.
Always allow powdered mustard, once made into a paste, to stand for 10 minutes to allow the flavours to develop.
Heat will dissipate mustard's pungent note, so adding some at the end of cooking to, say a casserole, will add a vibrant mustard flavour.
Do not allow glazes which include mustard to become 'char-grilled or burned; it will cause a bitter taste
Great Mustard Recipes
Mustard And Creme Fraiche Baked Chicken
Sausages With Feta Mashed Potatoes And Mustard Mayo
Chickpea pancakes with tomato & mustard seed salsa