Japanese Noodles
Japanese noodles have slipped into kiwi cuisine with ease, their chewy texture, so different from pasta or egg noodles and their flavours which vary widely between the different types – soba, udon, ramen, somen or cha soba have become pantry staples for many. Noodles are low in salt and fat and high in complex carbohydrates.
In Japan menrui is the collective name given for noodles; when a particular style of noodle is being referred to, it is shortened to men; hence ramen and somen. Their history dates way back to the 700sAD and the original menrui were more like sweet dumplings. Culinary evolution was gradual until dumplings became noodles. Unlike China, noodles in Japan have never been made from rice, rather buckwheat, which grew in cold climates where rice could not, and more recently wheat.
In Japan noodles are the ultimate in fast food, being served simply freshly steamed, swimming in a fragrant broth, or cold as a salad and often as a snack. For convenience they come dry, cooked and long-life packaged, or cooked and fresh chilled, the last two only requiring re-heating.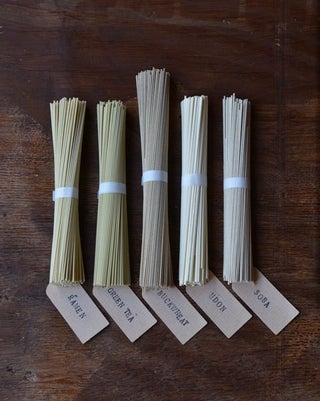 Soba noodles are made from, or have included in them a percentage of, buckwheat flour. This adds a nutty flavour and chewy texture. Once cooked, the noodles can be served cold in a dressing or added to a hot dish.
Green Tea (cha soba) noodles are a green tea-flavoured variation on soba noodles.
Udon noodles are chunky round or square, made simply from wheat flour, salt and water. Serve them cold or in soups.
Hiyamugi noodles are vermicelli-like noodles prepared from wheat flour.
Somen Noodles are like HiIyamugi noodles, except that the dough is lightly coated in oil before being made into noodles. These thin round noodles are delicious cold in a dressing in summer.
Ramen noodles are Chinese-style noodles now popular in Japan. They are traditionally wavy though not always. It is these noodles that we have come to know as instant noodles.