Olives / Aperos
Thinking of French food, of the many ingredients that come to mind, olives are not too far down the list, which is interesting, given that the quantity of olives grown in France does not rate a mention on the International Olive Council's list of producing countries. Olives are synonymous with Provence and the Mediterranean, but less than 1% of olives grown worldwide come from France.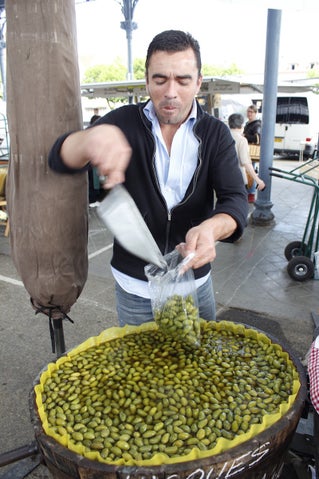 In addition, France eats fewer table olives than any other Mediterranean country, consuming in 2013 just under 1 kilogram per person, per year. This is a staggering 77% increase on the figures from the previous decade, when consumption was around 500 grams per person, per year.
Here in the south-west, we follow the French paradox diet, which is rich in protein, duck, fresh or preserved, pork fresh or preserved into jambon or saucisse, beef, lamb, chicken and other fowl; or it's the by-products – cheese, milk and yoghurt – and we drink gusty, tannic Madiran red wine. Olives rarely feature in main course dishes, other than the ubiquitous tapenade being spread on fish fillets and pan fried, rather they are placed on the table before a meal or served with aperos – evening drinks – and that's an invitation never to be refused.
As is the case in most social occasions in France, there are unwritten rules to be followed when attending aperos. Aperos is elegant drinks with stylish nibbles, from 5pm-6pm, maybe 5pm-7pm, and you must arrive on time and depart on time. The occasion does not involve chips and reduced cream dip and it certainly does not roll on into dinner with the need to dial-a-driver! No thongs, jeans or t-shirts – you dress, and that includes heels, pearls and hair-do. Introductions are formal and ne'er a tu shall be used to anyone other than a best friend or husband; vous is de-rigueur at aperos. A hand written thank you note must follow. Voila! Sadly, with my lack of French, I mess up on a regular basis; ç'est la vie.
Canapés, petit and perfect, will have been bought from the épicerie or supermarket, though the customary bowl of olives will always feature. However, should Madame cook, then cake aux olives has a good chance of making an appearance. Anything baked in a loaf-style tin, be it savoury or sweet, is called a cake, not a gateau.
Cake aux olives is prepared from an olive-oil-laden batter packed full of jambon, cheese, whole almonds and copious amounts of stoned, whole olives – plain or marinated, green or black – cooked in a loaf tin, and served sliced and warm. It's a nifty way of being able to eat copious amounts of olives, with a little starch to soak up the liquid refreshments!
Now, with the worst of the winter weather passing, olive sellers are springing up at all the local markets, though most of their produce will have come from Spain. France, like Italy, is still recovering from a fruit fly infestation caused by warm, humid winters not killing off the larvae - a result of global warming? French olives and olive oil produced in Provence enjoy an AOP, and while they're four times more expensive than cheaper imported products, they're worth every Euro.