Lamb Pepperonata
While the vernal equinox is almost here, the villagers around me have jumped the gun setting window boxes of bulbs on the uneven stone-trimmed window ledges of their maisons, colouring the drab winter away with narcissus. In summer, these blooms will be replaced with geraniums, the quintessential French rural maison floral garnish.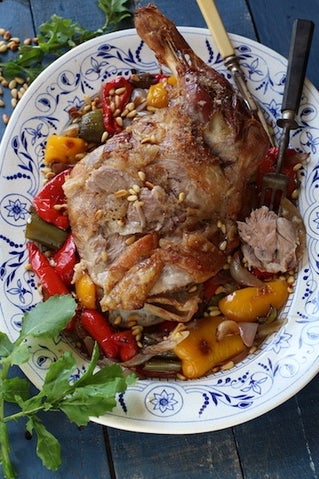 In a few weeks, the transhumance will be underway. This annual event, which has become a must-do tourist experience, sees shepherds walk their flock from the lowland villages where the animals have wintered inside to avoid snowfalls, up to the alpine pastures for summer grazing. The walk begins before dawn, through villages where vehicle detours around the criss-crossing one-lane roads allows uninterrupted passage to the transhumance. Locals will crowd balconies or lean out of open shuttered windows shouting and waving as this time-honoured annual procession moves through.
As the day goes late into the night, selected villages put on lunches for farmers, shepherds and the walkers. As to be expected here, this will not be a sandwich and beer affair. Assiettes of cold meats followed by a barbecue accompanied with bread (this is France!), salads, cheese, dessert and wine, will replenish the exhausted walkers while the animals are left to graze nearby. For some, the trek will continue over another day or two, walking gingerly over worn tracks into well-hidden valleys where farmers can be assured of wild thyme-blanketed pastures.
For the shepherds, the next few months will be both busy and isolated. Their alpine home is a stone hut with minimum luxuries, and the menu is limited to preserved meats and cheese. Some days these men hike back to their village, replenishing food stocks and catching up on the gossip before hiking back the same or next day.
Deep into the Pays Toy, a region of rugged beauty set deep in the Pyrenees, farmer Sylvan Broueilh cares for 500 shaggy, long-legged and spiral-horned Baregoise sheep. He is one of a small handful of farmers intent on bringing this unique local breed back from the brink of extinction. Following a highly regulated diet of pasture and hay - no supplementation with cereals – Sylvan will trek up the mountains every other day from his village of Luz-Saint-Sauveur to check on his flock's feet and give them salt licks. His reward is lamb that proudly displays an AOC.
As with so many foods here, you have to visit the area to obtain the meat, since 500 lambs won't feed a city of hungry people. Farmers here cannot understand how we, in New Zealand, manage such large flocks of sheep, while I cannot imagine how they make enough money to live on with such small numbers. I suspect that history, passion and pride, with a hefty dose of parochial-ness, keeps them farming this way, which is fortunate for those who do get to try their lamb – a true delight.