Home-style Takeaways
I happened to be looking for something totally different the other day when I came across details of the wartime food rationing regime in Britain during the World War II.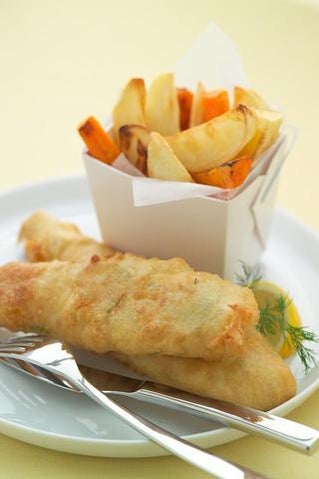 I happened to be looking for something totally different the other day when I came across details of the wartime food rationing regime in Britain during the World War II. The interesting thing was that, unexpectedly, everyone ate better because they were eating less fat and meat and more vegetables. Poorer people were eating better than they had previously. There was a proliferation of home gardens and even in London people had allotments to grow vegetables…there were even cabbages grown in Kensington Gardens. There was very little waste – people could not afford to throw food out and, in any case, there was so little of it that not much was left after a meal!
I sometimes think we're just a bit careless in what we throw away nowadays – times of plenty do not encourage thrift, but with the increase in food costs, we may very well need to have a look at our habits. "Eating up" was a big part of the weekly meal plan in the past and it deserves another chance! Leftover fish made into fish cakes; leftover roast meat used in sandwiches, cold with salad or hot vegetables, made into "stovies" – with potatoes and onions – a curry or a hash (Corned Beef Hash); minced and made into a shepherd's (lamb) or cottage (beef) pie (Quick Cottage Pie) ; put into pastry for a Cornish pasty or made into rissoles or patties. Make a stir-fry with odds and ends of vegetables, raw or cooked.
I'm not suggesting a return to the wartime diet but have a look at the weekly allowance for one person and then maybe consider your weekly shop!
A pork chop and four sausages (or the equivalent)
227gms sugar
227gms butter, margarine or lard
113gms bacon or ham (eg four rashers of bacon)
57 gms (approx 15 teabags) tea
57 gms cheese
1 egg
Rice, canned tomatoes and peas, dried fruit, cereals, condensed milk, sweets, chocolate and biscuits were also rationed. It was a considerable challenge for the cook in the home to produce appealing, tasty meals with any variety – no wonder they all had gardens and recycled tea bags!!!
The other night when Jean-Luc asked what's for dinner, I replied "fish and chips". He said "But Dad's home, where are they?" It's usually the Friday night treat, when dad comes in the door with the package under his arm, but this was another weekday night and I had fish left over from the day's food photography. Jean-Luc was enthralled that he could participate in making them at home. Like most families while I, too, look forward to Friday night treats, this time we made a quick batter of self raising flour and beer, and the fish was fantastic. The chips, baked in the oven, were lovely and crisp – and happiness reigned; well, at least until bed time!
And given we are all watching budgets, as well as the quality of the food, it's worth producing your own "takeaways" – fish and chips come with much less fat than from the shop, burgers can be far more nutritious and children enjoy making up their own from a selection of ingredients. It's easy to produce much cheaper ethnic meals like Thai or Chinese and even Mexican at home, where you can control the ingredients and the fat, salt and sugar content without sacrificing flavour.
Here are a few ideas for "Friday night takeaways at home"
Herb Coated Fish Fillets In Beer Batter
For chips, preheat oven to 200degC. Scrub the potatoes clean; don't peel. Cut into chips or wedges. Line a shallow baking tray with baking paper; spread the chips on in a single layer. Spray lightly with oil and bake for half-an-hour or until the chips are golden and crisp.
Mexican Fish Cakes With Avocado Salsa
Andalucian Carnival Burgers With Paprika Potato Wedges
Indian Spiced Kumara And Bean Burgers