Afternoon Tea
"There are few hours in life more agreeable than the hour dedicated to the ceremony known as afternoon tea."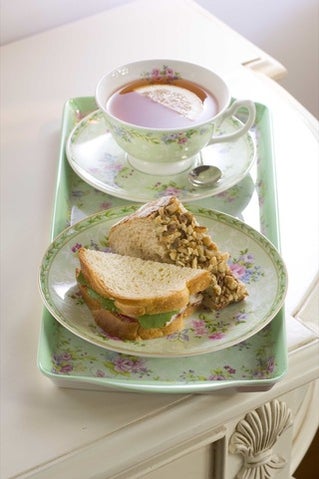 "There are few hours in life more agreeable than the hour dedicated to the ceremony known as afternoon tea."
So declared the American author Henry James (1843-1916) of a tradition that is most strongly associated with England.
Afternoon Tea – don't confuse it, as often happens in the USA – with High Tea, which was usually later in the day and included a cooked dish. Afternoon Tea takes place traditionally around 4.p.m., but is a "movable feast" from 2-5 p.m., and it most correctly comprises small sandwiches, scones or pikelets or similar with butter, jam and cream, and cakes or pastries.
The tradition is attributed to Anne, 7th Duchess of Bedford in the mid-1800s, when the practice was to eat a huge breakfast, have a snack at lunchtime and dinner didn't happen until 8 p.m. or later. The duchess found herself suffering from "a sinking feeling" in mid-afternoon and had tea and cakes brought to her at five o'clock, to keep her going until dinner time. She then started inviting friends to join her in her sitting room. When tea became more affordable for the middle classes, afternoon tea spread down the social ladder – it was not only a very cost-effective way to entertain as opposed to dinner parties, it was a lot less work.
Afternoon tea was also taken around the then British Empire, wherever ex-pats gathered, and in some countries it is still a regular part of the social scene.
I have friends who, when they travel, take afternoon tea at one or other of the establishments which have gained a reputation for the tradition – the Savoy, the Ritz, the Dorchester in London, the Empire in Victoria, BC, Canada, Raffles in Singapore, The Peninsula in Hong Kong and, most recently and voted the best, the Burg-al-Arab in Dubai!
Afternoon tea is still a great way to entertain, particularly for mothers who can entertain and be entertained before the children come home from school, or for older ladies (gentlemen may also be included!) who don't feel up to coping with dinner parties.
A hugely complicated etiquette surrounded the afternoon tea ritual over the years, but these days we can simplify it without sacrificing the tradition…and, unlike ladies of past centuries, we don't have to have a specially created gown for each time we go to tea!
Essentially, you need tea in a pot, milk, sugar, lemon slices (don't forget a little dish for the discarded slices), cups, saucers, teaspoons and side plates, a cake fork and napkin. Just one thing that is not up for adaptation – the teaspoon and fork should be placed in the saucer at right angles and below the cup handle.
The food is a selection of fresh finger sandwiches – and one time little triangles of thin bread and butter were served rather than sandwhichs. Cucumber, very thinly sliced, is traditional as a filling, but you might also provide the likes of salmon (red!) or egg. Freshly made scones, pikelets or the like, dressed with butter, strawberry or raspberry jam, some with whipped cream, and a variety of small cakes, biscuits and pastries complete the repast. If you still have a three-tiered cake stand, the sandwiches should be on the lower plate, the scones or pikelets on the centre one and the cakes and pastries on top.
Most people have their own favourite scone and pikelet recipes but you might like to impress the afternoon ladies with Macadamia And Apricot Scones (serve with cream only) or Mum's Tea Cake.
The cake plate could include Butterfly Cakes, Mini Lemon And Almond Cakes, Queen Cakes, Viennese Biscuits or Hazelnut Biscuits.
Ring the changes with sandwhiches – try Chervil And Salmon Brioche Sandwiches, Egg And Chive Finger Sandwhiches or Ladies' Sandwiches.
And as Owl said to Pooh Bear in Kenneth Grahame's Wind in the Willows:
"Come along inside…We'll see if tea and buns can make the world a better place."