Add to Cookbook

Wood-smoked Chilli Mussel Pizza With Pawpaw Salad
15 minutes
12-15 minutes
4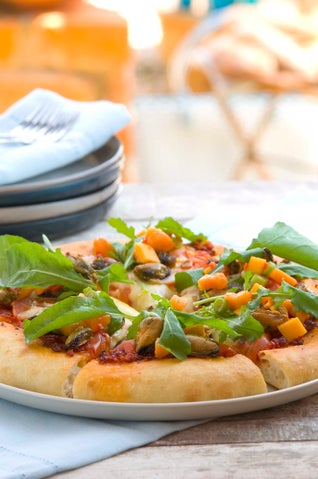 The pawpaw salad topping smooths the gutsy flavour of mussels.
Ingredients
½ cup sundried tomato pesto
2x 23 cm pre-made pizza bases
4 medium tomatoes, thinly sliced
1 cup grated mozzarella cheese
200 grams Sealord Chilli Marinated Mussels, halved
Pawpaw salad
½ cup peeled, deseeded and diced pawpaw
2 limes, grated rind and juice
2 spring onions, trimmed and sliced
2 red chillies, deseeded and finely chopped
1 large handful baby rocket or watercress leaves
Method
Spread the sundried tomato pesto evenly over the pizza base. Arrange the sliced tomato on top and scatter over the cheese and marinated mussels.
Bake at 220ºC for about 12 minutes until the pizzas are hot and golden.
Gently mix together the pawpaw, lime rind, lime juice, spring onion, chilli and rocket. Scatter evenly over the hot pizza. Cut into quarters and serve immediately.
Cooks Tips
- We used one large pizza base to serve two but if you prefer individual pizzas, simply use smaller bases.
- Another option is to double the pawpaw salad ingredients and also serve on the side.