Add to Cookbook

Winter fruit salad with butterscotch passionfruit dressing and hazelnut hearts
4-6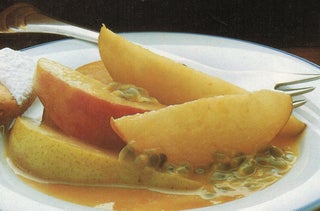 Ingredients
2 apples
2 pears
2 nashi
50 grams unsalted butter
2 tablespoons brandy
2 tablespoons brown sugar
2 tablespoons passionfruit pulp
2 tablespoon cream, optional
Hazelnut Hearts
400 gram packet of shortcrust pastry
70 gram packet hazelnuts
Method
Core the apples, pears and nashi and cut into eighths.
Heat the butter in a frying pan and add the fruit, tossing over a high heat for about 5 minutes.
Add the brandy and flambe if wished. Stir in the brown sugar and cook 1 minute. Add the cream and cook a further 1 or 2 minutes.
Add passionfruit pulp and serve with Hazelnut Hearts if you wish.
Hazlenut Hearts
Defrost the pastry if frozen. Toast the hazelnuts in a 200C oven for about 5-8 minutes until they begin to smell and have turned a light golden brown. They will burn easily so watch them closely.
Cool the hazelnuts and rub them between your hands over the sink to remove the skins. Process the cold nuts in a food processor until fine.
Knead the ground nuts into the pastry. Roll out on a floured board until 3mm thick.
Cut into shapes and bake at 200ºC for 10-12 minutes until golden. Keep in an airtight container. Sift icing sugar onto the biscuits to serve.