Add to Cookbook

Wholemeal and Buttermilk Date Scones
15 minutes
12 minutes
Makes 12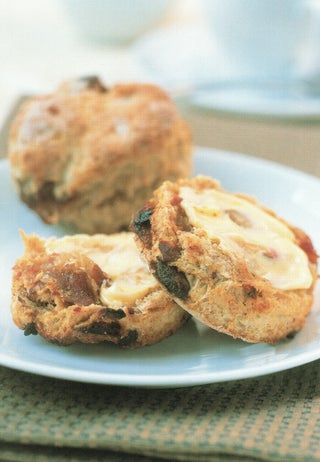 Date scones are a long-time favourite.
Ingredients
1 cup flour
4 tsp baking powder
½ tsp salt
1 tsp mixed spice
1 cup wholemeal flour (see Cook's Tips)
1-2 tblsp soft brown sugar
50 grams butter
1 cup dates, chopped
¾ cup buttermilk (see Cook's Tips)
¼ cup milk or water
Method
Sift the flour, baking powder, salt and mixed spice into a large bowl. Stir in the wholemeal flour and sugar. Cut in the butter until the mixture resembles crumbs. Mix in the dates.
Make a well in the centre and pour in the buttermilk and milk. Mix quickly with a knife to form a soft dough.
Knead the dough lightly on a floured board. Roll out to about 2-3cm thick and cut into 6cm rounds. Transfer to a greased baking tray.
Bake at 220ºC for 10-18 minutes until cooked. Serve warm.
Cooks Tips
- Replace wholemeal flour, if wanted, with 2 cups plain flour. - If you do not have buttermilk, replace it with ½ cup yoghurt and increase the ¼ cup milk to ½ milk.