Add to Cookbook

White chocolate cheesecake with boysenberry puree
45 minutes, chilling time 4 hours or overnight
N/A
12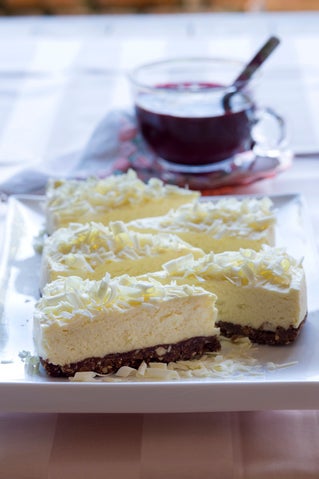 Families still love cheesecakes. Yes, they are decadent, which is why they are special and usually made only when there are guests who can share a small morsel of such a rich dessert. When chocolate is involved, cheesecake is even more tempting.
Ingredients
250 gram packet of your favourite chocolate biscuits
½-¾ cup hazelnuts, roasted and skinned
100 grams butter, melted
white chocolate filling
¼ cup cold water
1 tablespoon gelatin
250 grams white chocolate
300 ml bottle cream, chilled
¼ cup icing or caster sugar
250 grams creme fraiche or sour cream
2 teaspoons vanilla essence
boysenberry puree
500 grams frozen or fresh boysenberries
2-4 tablespoons icing sugar
Method
Line the base and sides of a 23-cm spring-form cake tin with baking paper.
Place the chocolate biscuits and roasted hazelnuts in a food processor bowl and process until lightly crushed. Pulse in the melted butter to mix only. Press into the base of the prepared tin and refrigerate until required.
White chocolate filling
Pour the water into a small bowl and sprinkle the gelatin over the top. Leave to swell and become spongy. Dissolve the gelatin by heating in the microwave for 15 seconds on high power (100%) or stand the bowl over a larger bowl of hot water and stir until melted. Set aside.
Break the chocolate in half. Grate one half and set aside. Chop the remaining half and place in a clean mixing bowl with ¼ cup of the cream. Heat in the microwave on high power (100%) for 1 minute, stir and repeat if the chocolate has not melted. Stir to make a smooth sauce. Set aside to cool.
Beat the remaining cream and sugar until thick. Fold in the creme fraiche or sour cream, grated chocolate, cooled chocolate cream, gelatin mixture and vanilla essence.
Pour into the prepared tin and refrigerate for 4 hours or overnight. Cut into wedges to serve and garnish with fresh berries and grated white chocolate, if wished. Accompany with boysenberry puree.
Boysenberry puree
Defrost the frozen boysenberries, if required. Process the boysenberries in a food processor until roughly chopped and then sieve to make a smooth sauce. Sweeten to taste with icing sugar and chill until ready to serve.
Cooks Tips
- If you do not have a food processor, place the biscuits in a snap-lock bag, seal and crush with a rolling pan by hitting and rolling. Chop the nuts finely and mix the two together.
- Do not over-process berries in a food processor as the cracked seeds can add a bitter taste to the sauce.
Variations:
- Use different nuts in the base - pecans and macadamia nuts are great with chocolate.
- Use half dark and half white chocolate. Grate the dark chocolate so you have a speckled cheesecake.
- Use coconut essence in place of vanilla for a tropical taste.
- For the puree, use any berry of your choice.