Add to Cookbook

White chocolate brownies
30 minutes
30-35 minutes
Makes 24-30 pieces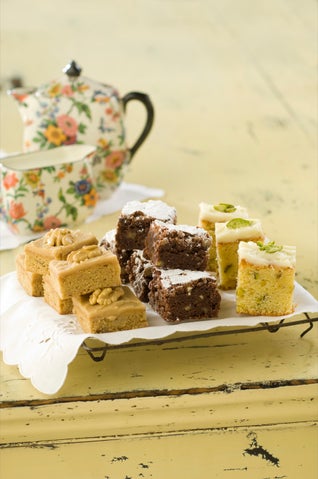 Ingredients
250 grams quality white chocolate, roughly chopped
250 grams butter, diced
1 cup caster sugar
4 eggs
1 tablespoon vanilla essence
2 cups flour, sifted
1 cup pistachio nuts or pecans, chopped
1 quantity white chocolate icing (see recipe on this website)
Method
Preheat the oven to 160ºC. Grease and line the base and sides of a large 25cm square cake tin.
Place chocolate and butter in the top of a double saucepan and heat over boiling water until just melted. Alternatively, microwave on high power (100%) for about 2 minutes. Be careful not to overcook the chocolate as it will burn easily. Stir until smooth and leave to cool.
Using an electric mixer, beat the sugar, eggs and vanilla essence together until the mixture is thick and fluffy.
Sift the flour over the beaten egg mixture and fold in alternately with the cooled chocolate mixture. This is easiest done with a slotted spoon. Fold in the pistachio nuts or pecans. Turn the mixture into the prepared cake tin.
Bake in the preheated oven for 30-35 minutes until the top is lightly golden but the centre is still a little soft.
Remove from the oven and cool to room temperature. Refrigerate for 3-4 hours. Remove from the tin, ice with the white chocolate icing and decorate with pistachio nuts or as wished.