Add to Cookbook

White Chocolate and Fresh Currant Cheesecakes
30 minutes
15 minutes / Chilling time 1 hour
12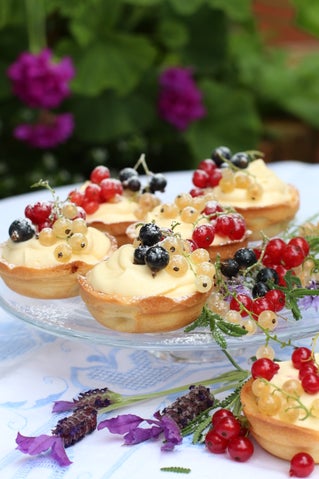 Fresh currants, precious, exclusive, and rare, sneak into season with out the fanfare that accompanies cherries and strawberries. Their tart flavour and tricky growing requirements, have pretty much guaranteed currants take a back seat, but should you stumble upon these jewel-like beauties, spoil yourself with a tub or two, for they really are a treat worth savouring once each year. Here I've used red, white and black currants to embellish soft textured, cheese-cake like tarts.
Ingredients
500 grams sweet short pastry
100 grams white chocolate, chopped
250 grams traditional cream cheese
2 eggs, separarted
6 tablespoons caster sugar, or use a heaped 1/4 cup cater sugar
1 cup cream, chilled and whipped
1-2 chips fresh currants to garnish
icings sugar for dusting
Method
Preheat the oven to 190°C. Set the oven rack in the middle. Cut out 12 small rounds of baking paper to use to line the tartlet moulds to bake the pastry blind.
On a lightly floured bench, roll the pastry out to 3mm thickness. Cut out circles to line tartlet moulds. The size of tartlet moulds varies considerable. The ones use here in the photo are 7cm in diameter, and have about an 80ml capacity , so almost 1/3 cup capacity.
Line the tarts with baking paper and fill with baking blind material. Bake in the preheated oven for 12 minutes or until the pastry edges of the tartlets begin to brown. Remove the baking blind material and return the tartlets to the oven for a further 1-2 minutes to cook the bases thoroughly. Cool, and keep in an airtight container . They will keep well like this for 7 days.
Heat the chocolate and cream cheese together in the microwave - allow about 1 minute and beat well to mix the melted chocolate and cream cheese together to a smooth cream. Depending on the temperature of the cream cheese, this may take a little longer in the microwave. Beat in the eggs yolks and return to the microwave for a further 2 minutes, beat well; cool.
In a clean bowl whip the egg white and sugar together until the mixture is very thick and meringue like. Fold into the cream cheese mixture alternately with the whipped cream. Refrigerate for a minimum of 30 minutes to allow the mixture to thicken. It can be refrigerated overnight.
Divide the mixture evenly among the tarts and refrigerate the filled tarts for 30 minutes to allow the pastry to soften a little before serving. Garnish with fresh currants and dust with icing sugar.