Add to Cookbook

White And Dark Chocolate Classic Brownies
40 minutes
40-45 minutes
36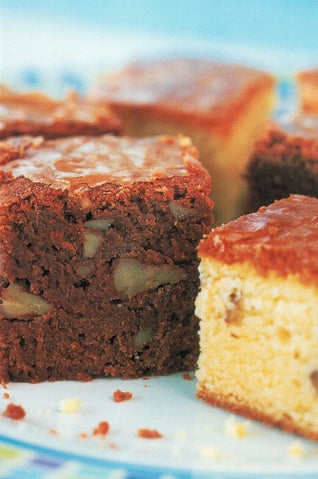 A deluxe version of an old-favourite tin-filler...but they won't last.
Ingredients
250 grams dark chocolate or white chocolate
250 grams butter
4 eggs
1½ cups caster sugar
1 tbsp vanilla essence
1½ cups plain flour
2 x 70 grams packets pecan nuts, coarsely chopped
Method
Melt the chocolate and butter in the top of a double saucepan, stirring occasionally until the mixture is smooth. Cool.
With an electric mixer, beat eggs, sugar and vanilla essence until light and fluffy. Blend in the melted chocolate mixture, carefully fold in sifted flour and nuts.
Pour the mixture into a greased and lined 25 cm square cake tin. Bake at 180ºC for 40 to 45 minutes. The brownies will have a shinny crisp crust and a slightly soft centre. Remove from the oven, cool to room temperature, chill in refrigerator for 3-4 hours. Cut into squares, store in an airtight container.
Cooks Tips
- Use unsalted butter when baking with chocolate - it enhances the flavour.