Add to Cookbook

Watercress pesto in mayonnaise cream sauce
20 minutes
Makes 2¼ cups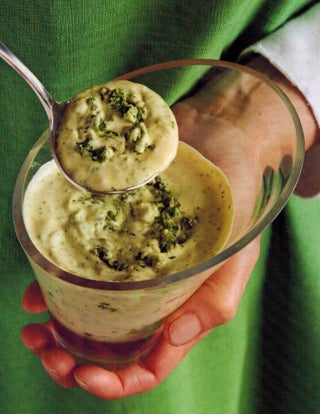 Delicious with cold roast pork, ham, smoked or grilled chicken or salmon.
Ingredients
¼ cup blanched almonds
¼ cup grated fresh parmesan
1 cup firmly packed watercress
2 tablespoons olive oil
1 cup good thick quality mayonnaise
½ cup sour cream
Method
Toast the almonds in a 180ºC oven for about 8-10 minutes or until golden. Cool.
Chop the nuts finely by hand to achieve more texture. In a food processor put the watercress, olive oil and mayonnsie and process until smooth. Pulse in the nuts and sour cream just to mix. Season as wished.
Cooks Tips
Variations: - Use a mix of parsley, chives and chervil in place of the watercress. - Use pistachio nuts in place of almonds. - Omit the sour cream and use more mayonnaise. - Add the grated rind of a lemon.