Add to Cookbook

Warm Roast Pumpkin And Lima Bean Salad
15 minutes
1 hour
overnight
5-6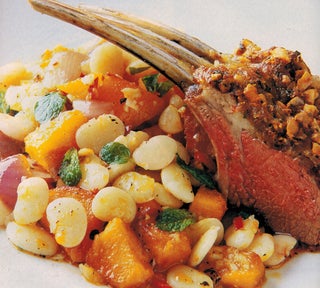 This salad is delicious served with Lamb Racks.
Ingredients
½ cup dried lima beans
600 grams pumpkin
2-3 tablespoons oil
1 large onion (red is nice here), peeled and chopped
1 mild red chillies, deseeded and finely chopped
2-3 tablespoons chopped fresh mint
2 tablespoons chopped fresh marjoram or oregano
¾ cup annatto vinaigrette (recipe below)
Annatto Vinaigrette
½ cup olive oil
¼ teaspoon annatto
1 teaspoon minced fresh garlic
pinch chilli powder
2 tablespoons each, lime juice and white wine vinegar
Method
Soak the lima beans in 2 cups of cold water for four hours or preferably overnight. Drain well.
Place the beans in a saucepan with plenty of fresh cold salted water and bring slowly to the boil. Lower the heat and simmer gently for 1 hour or until the beans are tender. Drain well.
Peel the pumpkin and discard the seeds. Cut into 2-cm pieces. Heat the oil in a frying pan and add the pumpkin. Cook over a moderate heat for around 10 minutes, turning frequently until the pumpkin is almost cooked and is well browned.
Add the onion and cook a further 2 minutes until the onion is tender and then add the garlic and chilli and cook for a further minute. Cool.
In a large bowl toss together the lima beans, pumpkin, mint and marjoram or oregano with the vinaigrette. Season with salt and pepper
.Annatto vinaigrette
Heat the oil, annatto and garlic until warm and fragrant. Set aside to cool. Stir in the chilli powder, lime juice and vinegar. Season with salt and pepper.
Cooks Tips
Vary the salad by using another type of dried bean - kidney, pinto etc
Use canned beans to cut the time required to make the salad. about one 400 gram can will be sufficient.