Add to Cookbook

Walnut and Fig Loaf with Blue or Goat's Cheese and Melon
Makes 2 loaves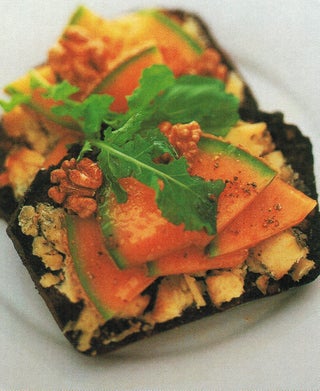 Dense, moist and flavour-packed, this loaf makes a great accompaniment to any number of cheeses but, in particular, to blue cheese. I have topped the cheese with melon, but pears, feijoas, grapes, nashi, persimmons or peaches would also be delicious.
Ingredients
3½ cups flour
7 tsp baking powder
1 tsp each baking soda and salt
1 tblsp mixed spice
1½ cups quick cooked rolled oats
1½ cups chopped dried figs
2 cups chopped toasted walnuts
175 grams butter, melted
1 cup golden syrup
½ cup brown sugar
4 eggs
1½ cups milk
1 tblsp vanilla essence
Blue Cheese and Melon
250 grams blue cheese OR Goat's cheese
¼ melon, sliced
8-10 walnuts, toasted
several handfuls rocket, washed
walnut oil, optional
ground black pepper
Method
Sift the flour, baking powder, baking soda, salt and mixed spice into a large bowl. Stir in the rolled oats, figs and walnuts and make a well in the centre.
In a large jug or bowl, mix together the butter, golden syrup, brown sugar, eggs, milk and vanilla essence. Pour into the dry ingredients and mix gently.
Pour into 2 well greased 20cm x 10cm loaf tins.
Bake at 180ºC for 35-40 minutes until well risen, golden and cooked when tested. Cool in the tins for 5 minutes before turning out onto a cake rack to cool.
Slice thickly and toast. Spread roughly with blue cheese and top with melon slices, walnuts, rocket and dress with walnut oil and black pepper.