Add to Cookbook

Vietnamese fishcakes with crispy noodle salad
30 minutes
8-10 minutes
4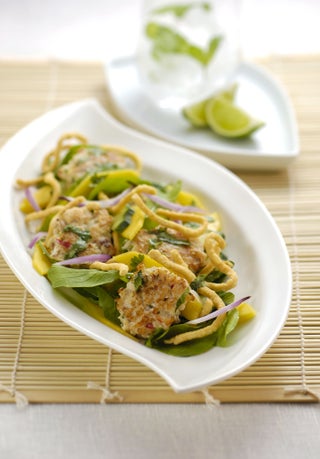 Refreshing flavours and textures make these fishcakes ideal to serve for dinner on a summer's night.
Ingredients
1 teaspoon minced fresh garlic
1 teaspoon minced chilli paste
2 teaspoons minced fresh ginger
about 16 mint leaves
3-4 spring onions, trimmed
1 lime, grated rind and juice
1 tablespoon fish sauce
500-600 grams medium-textured fish fillets, chilled
crispy noodle salad
½ telegraph cucumber, sliced
1 mango sliced
½ red onion, peeled and sliced
140 grams pack crispy noodles
3 tablespoons fresh lime juice
1 tablespoon fish sauce
1½ tablespoons grated palm sugar
1 tablespoon chopped fresh coriander
Method
Combine the garlic, chilli, ginger, mint leaves, spring onions, lime rind and juice and fish sauce in a food processor. Process until well blended, then set aside.
Chop the fish fillets and place half into the food processor. Pulse until coarsley minced. Add to the chilli and mint paste. Repeat with remaining fish and mix all together well. Shape into 16 even-sized fishcakes.
Pan-fry in a dash of oil for 3-4 minutes on each side in a moderately hot frying pan until golden. Serve with Crispy Noodle Salad.
Crispy noodle salad
Toss together the cucumber, mango, red onion and crispy noodles with the lime juice, fish sauce, palm sugar and coriander.
Cooks Tips
- Medium-textured fish include: blue cod, John Dory, red gunard, kahawai, sea perch, orange roughy, tarakihi, trevally, snapper, skipjack and tuna. These fish fillets will hold their shape during cooking and separate easily into thick flakes once cooked. - In place of palm sugar use brown sugar.