Add to Cookbook

Vietnamese beef and bean rolls with dipping sauce
20 minutes
10 minutes
Makes 20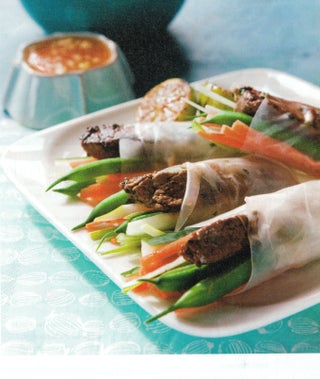 Mint, basil and chilli-spiked beef with summer vegetables are snuggled inside these rice wrappers for a great-tasting meal or nibble. Do not be put off by the list of ingredients or method as the finished product is worth all the effort.
Ingredients
400 grams beef for stir frying
2 tablespoons chopped fresh basil
2 tablespoons chopped fresh coriander, with stalk if possible
2 tablespoons chopped fresh mint
2 teaspoons minced garlic
2 teaspoons minced chilli
2 tablespoons oil
Vegetables and rolls
200 grams beans, trimmed
1 carrot, peeled and finely shredded
4 spring onions, trimmed and shredded
½ telegraph cucumber, deseeded and sliced
20 sheets rice paper
Lime and chilli dipping sauce
2 teaspoons minced fresh ginger
1 teaspoon minced fresh chilli
1 tablespoon caster sugar
½ lime, quartered (seeds removed)
1½ tablespoons Asian fish sauce
½ cup water
Method
Toss the beef with the basil, coriander, mint, garlic, chilli and oil. Cover and set aside to marinate for 20 minutes.
Blanch the beans and carrot quickly in boiling water for 1-2 minutes. The beans should be crisp tender when bitten. Refresh in cold water. Drain well and pat dry on absorbent paper towels.
Cook the marinated beef in a hot frying pan over a high heat for about 3-4 minutes until well-browned and just cooked. The beef should still be pink on the inside. Set aside.
Take one sheet of rice paper and dip into warm water for 5 seconds before placing on a clean towel. Take a little beef and place in the centre of the rice paper. Add a green bean or two and a few pieces of carrot, spring onion and cucumber and roll up to enclose the filling. Keep on a tray under a damp cloth while you finish the remaining rolls.
Serve the rolls with the lime and chilli dipping sauce.
Lime and chilli dipping sauce
Put the ginger, chilli, saugar, lime (including peel), fish sauce and water into a small blender or food process and process to make a smooth sauce. Makes ¾ cup.
Cooks Tips
- Once the rolls are made, they can be kept under a damp cloth in the refrigerator for 3-4 hours before serving.