Add to Cookbook

Vanilla 'n' chocolate tartlets
15 minutes, chilling time 30 minutes
12-15 minutes
Makes 12-16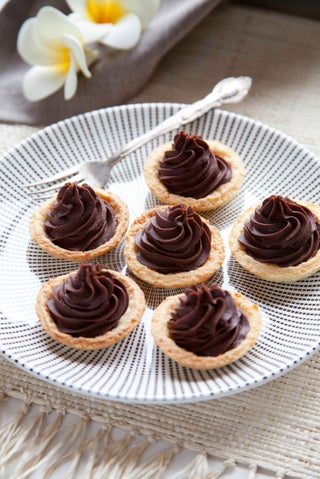 Ingredients
Coconut short pastry
1 cup flour
½ cup desiccated coconut
2 tablespoons caster sugar
100 grams butter, chilled and diced
3-4 tablespoons cold water
Vanilla 'n' chocolate cream filling
150 grams dark chocolate chopped
½ cup cream
1 tablespoons vanilla extract or essence
Method
Preheat the oven to 200ºC.
Process the flour, coconut, sugar and butter in a food processor until the mixture resembles crumbs. Pulse in enough cold water to form small, moist balls of dough. Turn out and bring together.
Roll the pastry out on a lightly floured bench to 3mm thickness and use to line the base of 12-16 small tartlet tins. Use boat shaped tins, patty pan or mini muffin tins. Prick well with a fork. Refrigerate for 30 minutes.
Bake in the preheated oven for 12-15 minutes or until pastry is cooked. It will begin to turn toast coloured on the edges and the centre of the pastry should be cooked. Cool.
Place the chocolate in a saucepan with the cream and stir over a low heat until the chocolate melts. Remove from the heat and stir in the vanilla essence.
When thick but not set, spoon or pipe the mixture into the prepared pastry cases. These are best served at room temperature.
Cooks Tips
Short-cut coconut pastry Knead ½ cup desiccated coconut into a 400-gram block defrosted sweet short pastry - but do roll out thinly as bought sweet pastry contains baking powder and will rise on cooking becoming quite thick.