Add to Cookbook

Vanilla bourbon cured salmon
15 minutes, curing time 3-4 days
6-8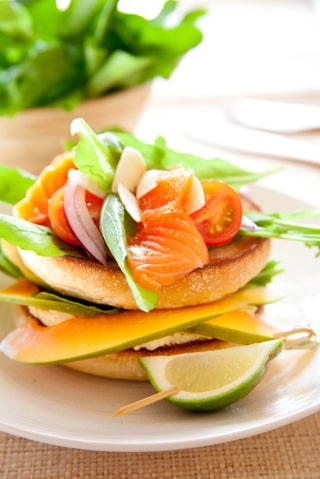 Salmon's richness works well with vanilla. Do try it over the summer months.
Ingredients
500 gram piece salmon, tail end
1 tablespoon bourbon whiskey
2 tablespoons vanilla sugar (see recipe on this website)
1 tablespoon sea salt
Method
Using tweezers, remove all the fine pin bones form the salmon and place skin-side down in a shallow non-metallic container.
Sprinkle over the bourbon then sprinkle on the sugar and salt. Press firmly on to the salmon.
Cover with baking paper and place a sturdy weight on top such as another dish. Leave to marinate in the refrigerator for 3-4 days, turning the salmon over each day and putting the weight back on top each time. If the salmon produces some brine, baste it over the salmon from time to time. Do not leave longer than 5 days in the brine as the salmon will become stiff and lose its fine texture.
Remove from the brine and discard any liquid. Slice the salmon thinly and serve on cream-cheese topped, freshly toasted bagels with salad greens.
Cooks Tips
- Use good quality flaky salt here. If you only have iodised salt, use ¾ teaspoon only.