Add to Cookbook

Vanilla black rice pud with orange syrup and coconut cream
10 minutes
50 minutes (includes 30 minutes standing time)
4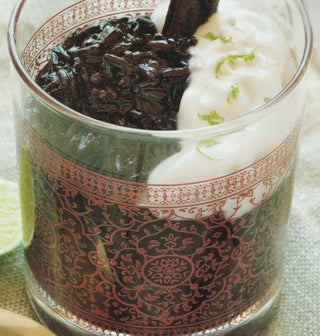 A twist on that Kiwi favourite rice pudding, this Bali-inspired version is delicious served warm or cold.
Ingredients
1 cup black sticky rice
2 cups water
2 teaspoons vanilla essence
½ teaspoon ground cardamom
½ teaspoon salt
¼ teaspoon ground cinnamon or 1 small piece cinnamon stick, optional
Orange syrup
½ cup brown or palm sugar
¾ cup water
grated rind and juice one orange
Sweetened coconut cream
½ cup coconut cream or milk
2 tablespoons sugar
grated rind one lime or lemon (optional)
Method
Wahs the black rice and place in a saucepan iwth the water, vanilla cardamom, salt and cinnamon (if using) and bring to the boil. Lower the heat and simmer gently for 20 minutes or until rice has absorbed all the liquid.
Stir in the orange syrup, cover and leave to cool for about 30 minutes. Serve with the sweetened coconut cream and your favourite in-season or canned tropical fruits.
Orange syrup
In a saucepan, put the sugar, water and orange rind and juice. Simmer, stirring over a low heat until the sugar has dissolved. Simmer for 5 minutes then cool.
Sweetened coconut cream
Stir in the coconut cream, sugar and lime or lemon rind together in a saucepan over a low heat until the sugar has dissolved. Keep refrigerated.