Add to Cookbook

Twice-cooked pork belly with apple syrup and ginger glaze
30 minutes
3½ hours (day 1), 30 minutes (day 2)
8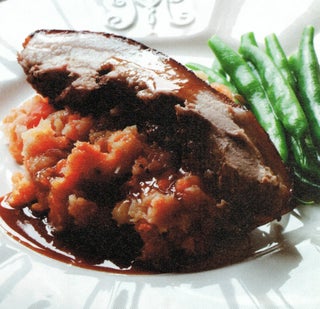 Ingredients
1.5 kg piece pork belly, skin on and well scored
3-4 tablespoons oil
½ teaspoon ground cinnamon
2 onions, peeled and sliced
2 carrots, peeled and chopped
6 cm piece fresh ginger, peeled and thinly sliced
6 cloves garlic, crushed and peeled
1 cup chicken stock
2 cups apple juice
2-3 tablespoons apple syrup
Method
Preheat the oven to 160ºC.
Heat the oil in a large frying pan. When hot, brown the pork well on both sides. Set aside and sprinkle with the cinnamon.
Add the onion, carrots, ginger and garlic to the pan and cook over a medium heat until the onion is tender and lightly browned. Place the vegetable mix in a large ovenproof dish, place the pork on top, pour in the chicken stock and apple juice and cover.
Bake in the preheated oven for 3 hours, basting occasionally with the pan juices until the meat is tender. Remove from the oven, cover and leave to cool. Place the pork in the ovenproof dish (with vegetables and any juices) in the refrigerator to chill overnight.
Preheat the oven to 220ºC and line a baking tray with 2 layers of foil.
Place the pork on the prepared baking tray, skin side up. Strain the juices into a saucepan. Bake the pork in the preheated oven for 20-30 minutes or until the crackling becomes crisp and the meat tender.
Bring the reserved juices to the boil and boil rapidly until reduced by half. Add the apple syrup and season. Serve the pork sliced with kumara and carrot mash, fresh green beans and the apple syrup glaze.