Add to Cookbook

Tuscan tomato soup
30 minutes
in the slow cooker: low 5-6 hours, high 3-4 hours
Makes 12 cups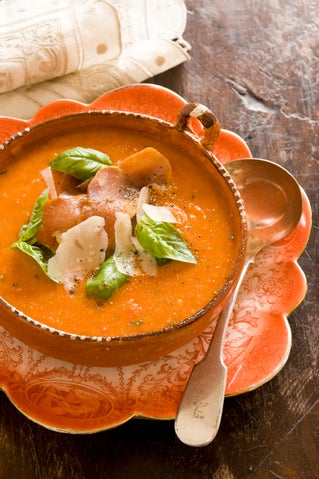 This simple tomato soup has a lovely fresh tomato flavour. Make it when juicy, sun-ripened beefsteak tomatoes are in plentiful supply and freeze to enjoy in winter when fresh tomatoes are most costly and have far less flavour.
Ingredients
1.5 kilograms large juicy tomatoes
6-8 shallots, peeled and sliced
1-2 stalks celery, trimmed and sliced
2 red capsicums, diced
¼ cup orzo pasta or rice
¼ cup sun-dried tomato paste
6 cups chicken stock
2 teaspoons sugar
1 cup loosely packed basil leaves
Method
Turn the slow cooker on to low to pre-warm while gathering and preparing the ingredients.
Cut a shallow cross just through the skin in the base of each tomato and cut out the core at the top. This will help the skin to split open and make peeling easier when blanched.
Blanch the tomatoes in boiling water for 1 minute and then plunge into cold water to arrest the cooking. Peel away the skin and cut the tomatoes into large chunks.
Put the tomatoes into the pre-warmed slow cooker with the shallots, celery, capsicums, orzo pasta or rice, tomato paste, chicken stock and sugar. Stir to mix as evenly as possible and cover with the lid.
Cook on low for 5-6 hours or on high for 3-4 hours, or until the tomatoes and shallots are soft.
Add the basil leaves and puree in a food processor, blender or mouli. Return to the slow cooker or a saucepan and season well with salt and pepper.
Serve with crispy slices of grilled bacon or pancetta, a few basil leaves and a sprinkling of grated Parmesan.
Cooks Tips
- Shallots are milder in flavour than onions, but if you do not have any, use peeled and finely chopped brown or red onion. - Pick a plain sun-dried tomato paste without cheese. Alternatively, add ½ cup well-packed, sun-dried or semi-dried tomatoes, well drained of any oil.