Add to Cookbook

Tuscan Tomahawk Steaks Pesto Chips
10 minutes / Marinating time: 30 minutes - overnight
15 minutes
4-5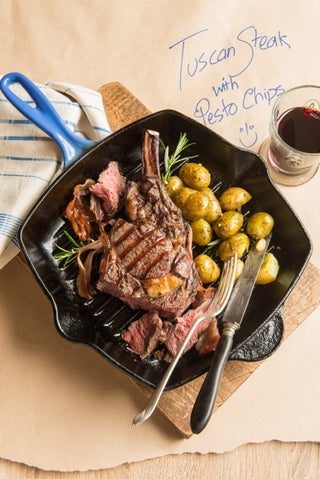 Tomahawk steaks, also known as Chicago steaks, are technically a chop, being cut from the Scotch on the bone. They are about 3-3.5cm thick and one steak will serve 2-3 people. This well-marbled cut loves a good marinade and cooks easily to melt in the mouth tenderness.
Ingredients
2 Tomahawk or Chicago steaks
4 slices pancetta
1 cup red wine
1 over-sized bouquet garni (prepared from celery stalks and leaves, parsley, thyme , bay leaves and rosemary sprigs)
1 teaspoon cracked black pepper
Pesto Chippies
500-600 500grams small, new season potatoes (I use Jersey Bennies), washed but not peeled
2-3 tablespoons basil pesto
Method
Place the steaks into a dish that they just fit snuggly in to. Pour over the wine, tuck in the bouquet garnish and sprinkle with the pepper. Cover and marinate for 30 minutes, or refrigerate for up to 8 hours. If doing this, remove the steaks from the refrigerator one hour before cooking.
Preheat the oven to 200°C. Place the oven rack towards the top.
Remove from steaks from the marinade. Use toothpick to secure two rashers of pancetta to the outside edge of each steak.
Heat a heavy based frying pan – a ridged pan is ideal but not essential – until hot. Brush the steaks with oil and place into the pan. Do not move around the frying pan as this will cause the frying pan to cool down unnecessarily and the steaks to stew rather than sear.
Cook on a high heat for 2 minutes, before turn over and cooking a further 2 minutes. It may be necessary to pan fry the steak one at a time – size of the steak and pan will determine this.
Transfer to an oven tray and place the steaks into the preheated oven. Roast for 10 minutes . Remove from the oven and set aside to rest for a couple of minutes. Serve the steak sliced with the Pesto Chippies.
Pesto Chippies Cook the new season potatoes in boiling salted water. When tender, drain , and halve. Return to the saucepan with the pesto and toss over a moderately high heat for a minute or two until the potatoes begin to brown and the pan smells fragrant of pesto, garlic and parmesan.