Add to Cookbook

Tuscan ox tongue terrine
10 minutes
1½ hours, chiling time: overnight
8-10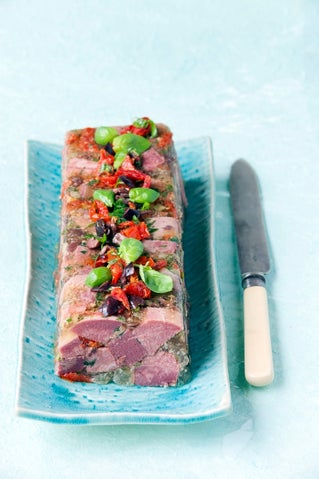 Yes tongue - now that's a dish from our grandmothers past or maybe you have never tried it - but do. Tongue is not dissimilar in taste to corned beef and its easy to turn into a snazzy terrine with flavours of olives, capers and sundried tomatoes. Great with crackers, a sandwich or served with salad.
Ingredients
1 ox tongue
1 orange, halved
1 bouquet garni
1 onion, peeled and halved
2 tablespoons golden syrup or brown sugar
¼ cup chopped fresh basil or parsley
¼ cup sliced sundried tomatoes in oil, well drained
¼ cup chopped black olives
2 tablespoons chopped capers
1 tablespoon of your favourite prepared mustard
1 cup white wine, warm
3 teaspoons gelatin
Method
Wash the tongue - they usually come vaccum packed in brine - and place in a large lidded saucepan. Add the orange halves, bouquet garni, onion and golden syrup or brown sugar and pour in enough tap-cold water to cover the tongue.
Cover and simmer gently for 1½ hours. Alternatively cook in a crock pot on low for 6-8 hours or until the tongue is tender when pierced with a skewer or fine-bladed knife. Turn off and allow the tongue to cool for an hour in the cooking liquid. Lift the tongue out, strain and reserve ½ cup of the cooking liquid.
Carefully peel away the thick outer skin. Cut the tongue into 2cm dice and place in a large bowl with the basil or parsley, sun-dried tomatoes, olives, capers and mustard. Season well, mix evenly and transfer to a 6-cup capacity loaf tin.
Sprinkle the gelatin over the ½ cup of the reserved cooking liquid and allow to sponge. Dissolve over hot water or by heating in the microwave for 10-15 seconds and mix with the wine. Pour into the terrine and cover with plastic wrap and place a small, even weight on top. Refrigerate overnight. Serve sliced with mayonnaise on freshly sliced crusty bread.
Cooks Tips
- You can use a 1 kilogram piece of pickled pork on place of the ox tongue. - If the skin does not come off easily, then the tongue is not cooked properly and will require additional cooking time.