Add to Cookbook

Tuscan ox tongue terrine - slow cooker method
chilling time: overnight, preparation time 10 minutes
low 6-8 hours, high 3-5 hours, cooling time 1 hour
8-10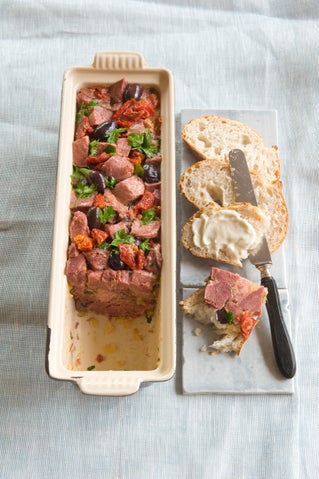 Yes tongue - now that's a dish from your grandmother's past. It's delicious and very cheap and easy to turn into a snazzy terrine with flavours of olives, capers and sun-dried tomatoes. Just great with crackers or in a sandwich - try it!
Ingredients
1 ox tongue
1 orange, halved
1 bouquet garni
1 onion, peeled and halved
2 tablespoons golden syrup or brown sugar
¼ cup chopped fresh basil or parsley
¼ cup sliced sun-dried tomatoes in oil, well drained
¼ cup chopped black olives
2 tablespoons chopped capers
1 tablespoon of your favourite prepared mustard
1 cup white wine
3 teaspoons gelatin
Olive crumble
½-1 cup black or green olives, pitted
2 chargrilled red capsicums
1 tablespoon capers
¼ cup diced sun-dried tomatoes
2 tablespoons chopped fresh parsley and chopped fresh basil
½ teaspoon minced garlic
3-4 tablespoons olive oil, 2 tablespoons vinegar or lemon juice
Method
Turn the slow cooker on to low to pre-warm while gathering and preparing the ingredients.
Wash the tongue - they usually come vacuum-packed in brine - and place in the slow cooker.
Add the orange halves, bouquet garni, onion and golden syrup or brown sugar and pour in enough tap water to cover. Cover with the lid.
Cook on low for 6-8 hours or on high for 3-5 hours, or until the tongue is tender when pierced with a skewer or fine-bladed knife.
Turn the slow cooker off and allow the tongue to cool for an hour in the liquid. Lift the tongue out, strain and reserve half a cup of the cooking liquid. (If the skin will not come off easily, then the tongue is not cooked properly and will need additional cooking time.)
Carefully peel away the thick outer skin. Cut the tongue into 2-cm dice and place in a large bowl with the basil or parsley, sun-dried tomatoes, olives, capers and mustard. Season well with pepper and mix.
Stir the wine in with half cup of reserved cooking liquid and sprinkle over the gelatin. Allow to swell then dissolve over hot water or by heating in the microwave for 10-15 seconds.
Transfer the seasoned tongue to a 6-cup capacity loaf tin and pour over the gelatin and wine mix. Cover with plastic wrap and place a small weight on top. Refrigerate overnight. Serve sliced with olive cumble and mayonnaise on freshly sliced crusty bread.
Olive crumble
Chop the olives, capsicums and capers finely and toss with the sun-dried tomatoes, parsley, basil, garlic, olive oil and vinegar or lemon juice. Stand for 10 minutes before serving. Recipe makes about 2 cups.