Add to Cookbook

Tuscan inspired braised beef
15 minutes, marinate time: overnight
2½ hours
8-10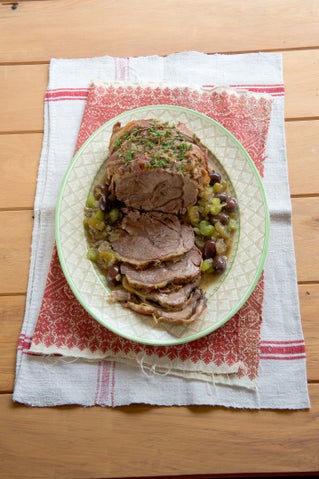 Feather steak is a very old English name (and to me far nicer) for cross-cut blade which, while usually sold sliced for casseroling, can also make a delicious cooked-in-one-piece braise.
Ingredients
1.5 kilogram cross-cut blade, in one piece
6-8 rindless rashers streaky bacon
handful fresh thyme sprigs
1 onion, peeled and finely chopped
2 stalks celery, sliced
¼ cup black olives
1 tablespoon capers, rinsed
grated rind 1 orange
½ cup red wine or port
Method
Place the rashers of bacon randomly over the beef and arrange the thyme on top. Secure the bacon and thyme with string. Place in a lidded container and scatter over the onion, celery, olives, capers and orange rind. Pour over the wine, cover and refrigerate overnight, turning the meat at least once if possible.
Preheat the oven to 140ºC. Remove the meat from the marinade, pat dry and reserve the marinade. Heat a good dash of oil in a large heavy-based frying pan and brown the meat as evenly as possible on all sides.
Transfer to a lidded ovenproof dish and pour over all the marinade ingredients. Season well with pepper and cover.
Bake in the preheated oven for 2½ hours or until very tender. Transfer the meat to a serving platter, cover and keep warm.
Strain the juices from the cooking dish into a saucepan. Thicken as wished and season. Serve the beef finely sliced, with your favourite winter vegetables.
Cooks Tips
- You can prepare this in the slow cooker. Prepare to point 4 by placing the meat and marinade in a slow cooker. Cook on low for 6-7 hours or on high for 3-4 hours or until tender.