Add to Cookbook

Tuscan beef casserole
without browning 15-20 minutes, with browning 25-30 minutes
low 6-8 hours, high 3-5 hours
5-6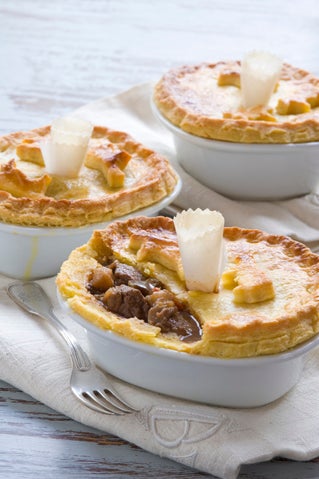 This Tuscan-inspired casserole is enjoyable as is or nestled under a rich Parmesan pastry pie top. To make the pies, allow the beef to cook well before putting it into a large pie dish or individual dishes. Particularly tasty on a winter's night accompanied with a gutsy red wine.
Ingredients
750 grams lean beef for casseroling
1 medium-sized eggplant
1 red capsicum, diced
1 onion, peeled and diced
¼ cup pitted black olives, chopped
¼ cup sun-dried tomatoes, chopped
2-3 teaspoons minced garlic
1 tablespoon capers
1 tablespoon chopped fresh oregano
¼ cup tomato paste
2 tablespoons flour
1½ cups beef stock
¼ cup red wine
Method
Turn the slow cooker on to low to pre-warm while gathering and preparing the ingredients.
Cut the beef into 2-3cm pieces and the eggplant into 1cm dice. There is no need to peel it.
If wishing to brown the ingredients then brown the meat, eggplant, capsicum and onion, olives, sun-dried tomatoes, garlic, capers and oregano.
In a jug, mix together the tomato paste, flour, stock and wine to make a smooth mix. Pour into the slow cooker and stir to mix all the ingredients evenly together and cover with the lid.
Cook on low for 6-8 hours or on high for 3-5 hours.
Serve with seasonal vegetables or create into pies using the rich Parmesan pastry recipe.