Add to Cookbook

Turkish chicken
30 minutes, marinating time 4 hours or overnight
45-55 minutes
4-5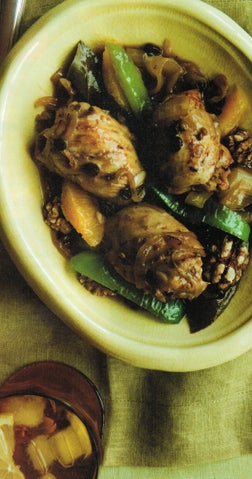 Serve this dish with mashed sweet potatoes.
Ingredients
8 boneless chicken thigh portions
¼ cup dried currants
1 cup orange juice, fresh is best
50 grams butter
2 large onions, peeled and thickly sliced
8 cloves garlic, peeled and sliced
1 tablespoon toasted coriander seeds
1 bay leaf
2 green peppers, sliced
1 orange, peeled and cut into small wedges
¼ cup honey
½ cup walnuts, toasted
Method
In a large lidded plastic container put the chicken, currants and orange juice. Cover and toss to coat the chicken pieces in the juice.
Marinate in fridge for 4 hours or overnight. Turn at least twice during this time.
Preheat the oven to 180ºC. Strain off the marinade from the chicken and reserve.
Heat the butter in a large flameproof casserole and brown the chicken pieces on all sides. Set aside.
Add the onions, garlic, coriander and bay leaf to the pan and cook over a moderate heat stirring regularly until the onions are browned.
Return the chicken, reserved marinade, peppers, orange wedges, honey and walnuts to pan. Bring to a simmer. Cover.
Transfer to the preheated oven for 45-55 minutes or until the chicken is well cooked and tender.