Add to Cookbook

Turkish bread and cumin roasted lamb with basil, feta and yoghurt dressing
10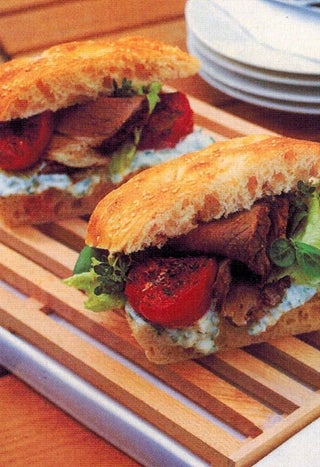 Ingredients
5 tablespoons cumin seeds
1½ tablespoons minced garlic
¼ cup olive oil
1 butterflied boned leg of lamb or 2 boned shoulders of lamb, about 1.8-2 kg
500 grams Roma tomatoes
fresh chopped thyme
2 Turkish breads
rocket or lettuce leaves
Basil, feta and yoghurt dressing
125 grams goat's milk feta cheese
1 cup Greek-style yoghurt
½ cup loosely packed basil leaves, chopped
Method
Dry roast the cumin seeds in a frying pan, stirring continuously until fragrant. Crush in a spice grinder or mortar and pestle.
Combine the ground cumin, garlic and oil, spread over the lamb. Sprinkle with sea salt.
Roast at 190ºC until tender. Cooking time depends on the cut used; allow about 2 hours if using a leg of lamb, 1¼ for shoulder.
Cook the tomatoes with the lamb for the final 10 minutes of cooking; cut the tomatoes in half lengthwise, sprinkle with sumac and thyme and season with salt and pepper.
Make sandwiches of lamb on Turkish bread with rocket, roasted tomatoes and the basil, feta and yoghurt dressing.
Basil, feta and yoghurt dressing
Crumble the goat's milk feta cheese into the yoghurt and stir in the basil. Mix well and serve.
Cooks Tips
- The meat may be barbecued. Do not season with the cumin paste before cooking. Place the lamb on a pre-heated barbecue grill or hot plate. Cover and cook for half the approximate cooking time, then spread the cumin paste over the top of the meaty side, cover and continue to cook until the meat is well done but still juicy. Add the tomatoes for the final 10 minutes of cooking, prepared as before.