Add to Cookbook

Tropical Fruit Mince Tarts With Coconut Meringue Topping
Makes 24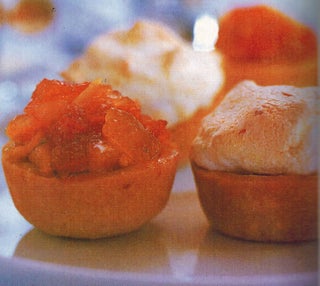 Ingredients
Tropical Fruit Mince
1 firm fresh mango, peeled and finely diced
½ cup dried mango, finely diced
200 grams dried apricots, finely diced
1 cup dried papaya, finely diced
1 cup dried pineapple, finely diced
¼ cup crystallised ginger, finely diced
1 cup sugar
2 tsp ground cardamom or ginger
70 gram packet slivered almonds
grated zest and juice of 1 orange
grated zest and juice of 3-4 limes
¼ cup brandy or rum
125 grams butter, grated
Shortcrust Pastry
1 cup flour
½ tsp salt
100 grams butter, chilled and diced
about 3 Tblsp cold water
Coconut Meringue Topping (see method)
Method
Tropical Fruit Mince
In a large bowl, combine the fresh and dried mango, apricots, papaya, pineapple, ginger, sugar, ground cardamom, almonds, orange and lime zest and juice, brandy and butter and mix well.
Turn into a 5-cup capacity lidded container, press down, cover and refrigerate for at least 2 days to allow the flavours to marry. Use within 3 weeks.
Shortcrust Pastry
Sift the flour and salt into a bowl and rub in the butter until the mixture resembles fine breadcrumbs. Stir in sufficient water to form a stiff dough. Knead gently on a lightly floured board until smooth. If baking the same day, rest 10 minutes. Or wrap in plastic wrap and refrigerate.
Roll out on a lightly floured board to 3mm thickness. Use a 5½-6cm cutter to cut out circles to line 24 mini-muffin tins. Fill the pastry with tropical fruit mince.
Bake at 200°C for 12-15 minutes until the pastry edges are just beginning to brown lightly.
Coconut Meringue Topping
Beat the 1 egg white until stiff but not dry. Gradually whisk in ¼ cup caster sugar until dissolved. Fold in ½ cup thread coconut.
Remove the tarts from the oven and cool for 10 minutes. Spoon a little topping on each tart. Return to the oven at 180°C for 12-15 minutes or until the coconut meringue is just lightly browned.