Add to Cookbook

Tomato and beef casserole
without browning 15 minutes, with browning 25 minutes
low 7-8 hours, high 4-5 hours
8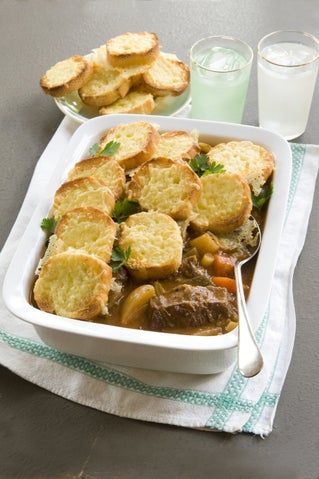 Only a few simple ingredients are needed to make this tasty family casserole.
Ingredients
2 kilgorams lean beef for casseroling
2 onions, peeled and diced
2 carrots, peeled and diced
2 green capsicums, diced
2 leeks, trimmed and thickly sliced, optional
¼ cup seasoned flour
2 cups beef stock
400 gram can condensed tomato soup
French bread slices
½ French bread stick
1-1½ cups grated Cheddar-style cheese
Method
Turn the slow cooker on to low to pre-warm while gathering and preparing the ingredients.
Trim the beef of any excess fat and cut into largish pieces, about 3-4cm cubes.
If wishing to brown the ingredients then heat a dash of oil in a frying pan and brown the beef well on both sides. Set aside. Add the onions to the pan with an extra dash of oil if required and cook for about 5 minutes.
Into the pre-warmed slow cooker put the beef, onions, carrots, capsicums and leeks. Stir together the flour, stock and condensed soup and pour into the slow cooker. Stir to mix as evenly as possible and cover with the lid.
Cook on low for 7-8 hours or on high for 4-5 hours, or until the meat is tender.
Serve the casserole straight from the slow cooker as is, or topped with the cheese-grilled French bread slices.
French bread slices
Cut the bread into 1-cm wide slices and place on a baking tray. Place under a hot grill until lightly browned. Turn the pieces over and scatter the cheese evenly over the top of the bread slices. Return to the grill until the cheese has melted and turned lightly golden.
Cooks Tips
Variations: - Add 150-200 grams mushrooms, sliced or diced. - Add 1 tablespoon paprika and ½ teaspoon cayenne pepper. - Add 4-6 slices bacon, finely diced. - Use red wine in place of stock. - Make with lamb or hogget in place of beef. - Add 1 tablespoon curry powder with the soup.