Add to Cookbook

Toll House Chocolate Chip Biscuits
15 minutes
20 minutes
Makes 30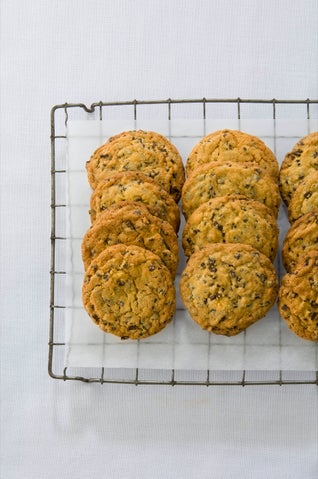 Toll House Biscuits are said to have been created by a Mrs Ruther Wakefield, manager of the Toll House restaurant in Massachusetts. She apparently added chocolate bits to her basic biscuit recipe, so creating every child's favourite chocolate chip biscuit.
Ingredients
175 grams butter
¾ cup brown sugar
¾ cup sugar (caster is good)
2 eggs
2¼ cups flour
1 tsp baking powder
2 cups chocolate chips
Method
Preheat the oven to 180ºC. Lightly grease 1-2 baking trays or line with baking paper.
In a large bowl, beat the butter and sugars together until light and creamy. Add the eggs one at a time beating well after each addition.
Sift the flour and baking powder evenly over the creamed mixture. Sprinkle over the chocolate chips and fold together.
Use an ice-cream scoop to scoop the mixture onto the prepared baking trays, leaving room for the biscuits to spread.
Bake in the preheated oven for 20 minutes or until the biscuits are beginning to lightly brown and are firm to the touch.
Transfer to a cake rack to cool. Store in an airtight container.
Cooks Tips
You can buy chocolate chips that look like drops or like little round chips. Use the smaller ones. Do not use chocolate hail as it will melt. Variations: - Add the grated rind of 1 orange for a jaffa toll house biscuit. - Use half and half white chocolate and dark chocolate chips. - Substitute 1 cup of flour with 1 cup of wholemeal flour.