Add to Cookbook

Thyme Baked Chicken With Prunes And Olives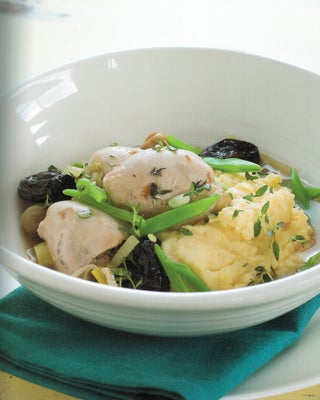 Use chicken thighs for this recipe as they remain very tender when braised.
Ingredients
1 leek, sliced or 1 onion, diced
8-10 boneless chicken thigh portions
8-10 sprigs of fresh thyme
16-20 pitted juicy prunes
16-20 stuffed green olives
freshly ground black pepper to season
¾ cup chicken stock
¼ cup vermouth or dry sherry
Method
Scatter the leek or diced onion over the base of a casserole dish.
Tightly roll boneless chicken thigh portions with a sprig of fresh tyme on the inside and place seam-side down on top of the leek or onion.
Sprinkle over prunes and olives and season well with freshly ground black pepper.
Pour in chicken stock and vermouth or dry sherry.
Cover and bake at 180ºC for 45 minutes or until the chicken is tender and cooked through.
Serve with creamy polenta, seasonal vegetables and plenty of cooking juices.
Cooks Tips
To add a creamy consistency to regular polenta, bring 2½ cups chicken stock and 1 tsp salt to the boil. Stir in ¾ cup instant polenta, and cook slowly, stirring, until the mixture thickens. Add ½ cup each grated parmesan cheese and cream, and stir until well mixed.