Add to Cookbook

Thai scented stir-fried rice and prawns
10 minutes
10 minutes
3-4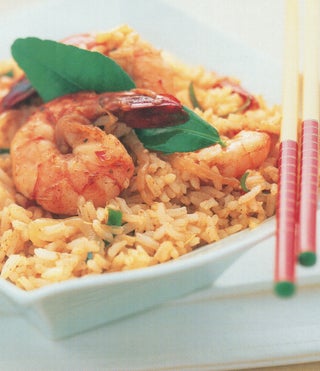 This quickly made stir fry is just a touch exotic in flavour.
Ingredients
1 onion, peeled and sliced
1-2 tablespoons oil
1 red chilli, deseeded and chopped
1 stalk lemon grass, bruised and sliced
2 tsp minced ginger
2 tblsp Thai green curry style paste
4 kaffir Lime leaves, finely sliced
300 grams green shelled prawns
4 cups cooked jasmine rice
chopped mint or kaffir lime leaves to garnish, optional
Method
Gently pan fry the onion, chilli, lemon grass and ginger in the oil in a large frying pan until soft but not brown.
Stir in the curry paste, kaffir lime leaves and green shelled prawns. Cook stirring continuously until the prawns are cooked and pink, about 4-5 minutes.
Stir through the cooked rice, heat thoroughly. Serve immediately, garnished if wished with chopped mint.