Add to Cookbook

Thai prawns wrapped in coconut pancakes
30-40 minutes
15 minutes
4-6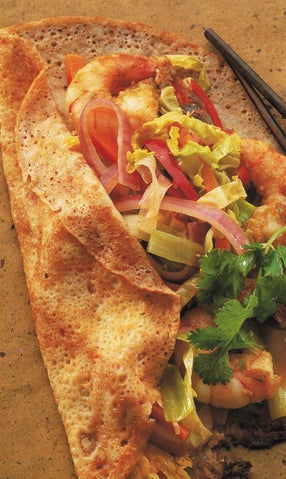 This dish is stunning. The flavours of the marinade are delicious and the fresh crispy tender vegetables, all wrapped up in a coconut pancake, make it an ideal choice for a dinner party. Making the pancakes is the most time-consuming part. The rest takes about 10 minutes to cook in a frying pan just before serving. Easy!
Ingredients
Coconut pancakes
1 cup flour
1 teaspoon salt
2 eggs
140 ml coconut cream
1-1¼ cups water
Prawns
20 green prawns, shells removed
2 teaspoons Thai curry paste
2 cloves garlic, crushed and peeled
2cm piece ginger, peeled
1 spring onion, tirmmed
2 tablespoons water
2 tablespoons oil
3 cups shredded vegetables (cabbage, spring onions, shiitake mushrooms, peppers, onions, bok choy, baby corncobs)
¼ cup water or fish stock
a few dashes Thai fish sauce
a few mint, basil and coriander leaves
Method
Coconut pancakes
Sift the flour and salt into a bowl. Make a well in the centre. Beat the eggs, coconut cream and one cup of the water together and stir into the flour mixture to make a smooth batter of pouring consistency. Add more water if necessary. Sieve to remove lumps, stir and leave for 20 minutes.
Heat a knob of butter in a pancake pan and pour in sufficient pancake mixture to thinly coat the base of the pan. Cook over a high heat until the surface becomes dull. Flip and cook the other side for about 30 seconds. Cool on a cake rack. Repeat with remaining mixture.
Prawns
Rinse the prawns and de-vein.
In a food processor, put the curry paste, garlic, cloves, ginger, spring onion, oil and water and process until smooth.
Toss the prawns with the paste and set aside for 30 minutes.
Heat about 1 tablespoon of oil in a frying pan and when very hot, add the prawns and stir-fry for 2 minutes. as the prawns change from green to red, add the vegetables, stock and fish sauce. Cover and simmer for 3-4 minutes until the prawns are cooked and the vegetables crisp and tender. Season with a little salt and add a few chopped coriander, basil and mint leaves. Serve wrapped in the pancakes.
Cooks Tips
Variations: - Replace the prawns with two double chicken breasts, skinned and finely sliced. - Use 400 grams finely sliced pork loin. - Use 400 grams finely sliced rump steak or scotch fillet. - Use 500 grams sliced firm fresh white fish fillets.