Add to Cookbook

Thai kumara and pork curry (slow cooker method)
30 minutes
in the slow cooker low: 5-7 hours, high 3-4 hours, plus extra 15 minutes
6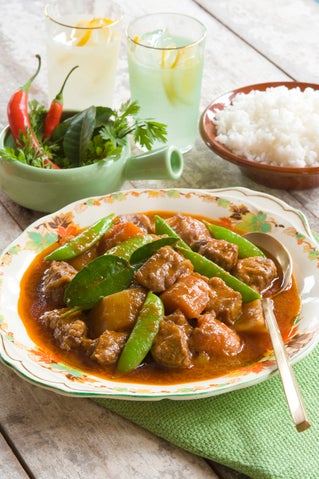 Choose an authentic, good-quality Thai curry paste for this dish, and if you have the time, cook on low so the flavours of all the spices in the curry paste have time to evolve.
Ingredients
1 kilogram lean pork for casseroling
2 large kumara, peeled
2 large carrots, peeled
1 onion, peeled and finely diced
¼-½ cup Thai red curry paste
¼ cup tomato paste
6 fresh or dried kaffir lime leaves
400 millilitre can coconut cream or milk
1-2 juicy ripe tomatoes, quartered, optional
250 grams sugar snap or snow peas, blanched
1 cup fresh basil leaves
2-3 tablespoons chopped fresh coriander
Method
Turn the slow cooker on to low to pre-warm while gathering and preparing the ingredients.
Cut the pork, kumara and carrots into chunky 3-cm pieces.
Heat a dash of oil in a large heavy-based frying-pan and brown the pork pieces over a high heat. Brown the onion lightly, adding a dash more oil if wished.
Into the pre-warmed slow cooker put the pork, kumara, carrots, onion, curry paste, tomato paste, kaffir lime leaves and coconut cream or milk. Stir to mix the ingredients evenly and cover with the lid.
Cook on low for 5-7 hours or on high for 3-4 hours. Season with pepper and a dash of fish sauce if wished. Add the tomatoes if using, sugar snap or snow peas, basil and coriander and cover with the lid. Cook on high for 15 minutes before serving with boiled delicately scented jasmine rice.
Cooks Tips
Variations - Use chicken or beef in place of pork. - Vary the vegetables using potatoes or pumpkin for a change. - Add 1 or 2 chunkily chopped red, green or yellow capsicums with the pork. - When we think of Thai curries, so often we think of only green and red curry pastes, but there are others that can be enjoyed: Yellow curry paste: prepared simply with chillies, laos, lemon grass, garlic and shrimp paste. Panaeng curry paste is heady with more spices than green or red curry pastes. Chiang Mai curry paste is a sweet gutsy curry paste with turmeric and plenty of laos.