Add to Cookbook

Thai inspired cured salmon
45 minutes (includes preparation time)
4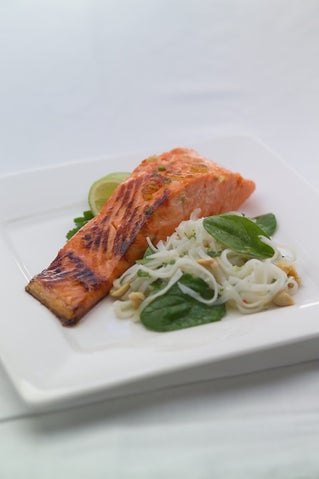 Ingredients
500-600 gram piece side salmon, pin bones removed
2 tablespoons flaky sea salt
4 tablespoons lime juice
2 tablespoons grated palm sugar or brown sugar
3 tablespoons chopped coriander root and stalks
2 bulb ends of lemon grass, finely chopped
1 teaspoon grated fresh ginger
1 red chilli, deseeded and chopped
Chilli noodles
125 grams rice noodles
½ cup roasted salted peanuts, chopped
1 teaspoon minced garlic
3 tablespoons chopped coriander
1 tablespoon chopped coriander root (optional)
1-2 spring onions, finely chopped
½ cup olive or avocado oil
2 tablespoons lime juice
1 tablespoon fish sauce
Method
Lime cured salmon
Cut the salmon into thick 2-3cm steaks and arrange in the base of a non-metallic dish. Mix all the marinade ingredients together and pour over. Cover and allow to stand for 30 minutes turning once.
Remove the salmon from the marinade and pan fry or barbecue in a dash of oil for about 2 minutes each side until well golden, but the centre is still medium-rare.
Noodles
Cook the noodles in boiling salted water for 2-3 minutes until tender or according to the directions on the back of the packet. Drain well.
Mix together all the remaining ingredients and toss through the noodles. Serve just warm with the grilled salmon. If wished add a few handfuls of peppery rocket leaves.