Add to Cookbook

Thai Duck on Coconut Rice with Ginger and Kaffir Lime Jus
10 minutes
20 minutes
2-3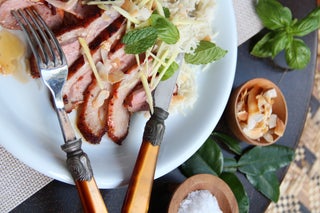 Fragrant coconut rice marries beautifully with Pams(New World's own brand) new-to-market Thai marinated duck breasts. A sprinkling of like-minded ingredients - ginger, coconut flakes and mint- add brightness to this easy meal, that's ideal to have mid-week or with friends over the weekend.
Ingredients
Rice
1 cup jasmine rice
1 cup water
1 cup coconut cream or milk
1/2 teaspoon salt
Duck
1 PAMS Thai Marinated Boned Duck Breast
1/2 cup water or chicken stock
1-2 kaffir lime leaves, optional
2 teaspoons brown sugar
Few dashes fish sauce
4-5 cm piece fresh root ginger, peeled and finely shredded
1/2 cup flaked coconut, toasted
1/2 cup well-packed fresh mint leaves, roughly torn
Method
Rice
Put the rice in a colander and wash under running water until the water runs clear. Drain well. Heat a good dash of oil or knob butter in a medium-sized, lidded frying pan. When hot add the rice and stir quickly to coat in the oil or butter. Once the rice has turned from opaque to white pour in the water, coconut cream or milk and add the salt. Stir until the mixture comes to the boil. Immediately cover, reduce the heat to the lowest setting possible and cook for 10 minutes. Turn the heat off, do not lift the lid and allow the rice to sit for a further 10 minutes to steam to fluffy perfection.
Duck
Preheat the oven to 190°C.
Heat a non-stick frying pan and when hot, turn down to a moderate heat and place the duck breast, marinade side-down down, and cook for 6-7 minutes. Once the marinade begins to brown well and fat has run from the skin, turn over and cook for 2 minutes. Transfer to the oven for 4-5 minutes. This will give you rare duck. For more well-cooked duck, continue to cook in the oven for an extra few minutes.
Transfer the duck to a warm plate, cover and set aside to rest. Pour off and discard the duck fat that remains in the pan. Pour in the water or stock, and add the kaffir lime leaves, sugar, fish sauce and half the ginger. Simmer until reduced by half, stirring to remove the sediment from the bottom of the pan. Season with pepper if wished.
Slice the duck breast evenly and arrange on a plate with a generous serving of coconut rice. Scatter over the remaining ginger, coconut and mint and glaze each serve with jus.