Add to Cookbook

Thai beef and sweet potato curry
without browning 20 minutes, with browning 25 minutes
low 5-6 hours, high 3-4 hours, plus extra 15-20 minutes
6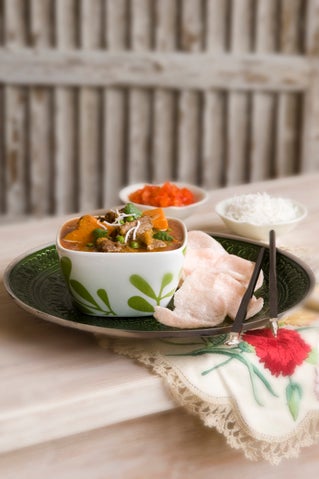 Where Thailand borders Malaysia, there is a blending of cuisines. This recipe is redolent of the curries there.
Ingredients
1-1.5 kilograms lean beef for casseroling
1 teaspoon each salt and ground black pepper
2-3 tablespoons oil
2 onions, peeled and diced
2 teaspoons minced garlic
3 tablespoons Massaman curry paste
2 medium orange-fleshed kumara, peeled and diced
400 gram can coconut milk
1½ cups beef stock
1-1½ cups frozen peas
2 tablespoons chopped fresh coriander
Method
Turn the slow cooker on to low to pre-warm while gathering and preparing the ingredients.
Cut the beef into 2-2.5cm pieces and season with salt and pepper.
If wishing to brown the ingredients then heat a dash of oil in a large frying pan and cook the onions and garlic over a medium heat for 4-5 minutes until tender and lightly browned. Set aside.
Heat a further dash of oil in the frying pan and brown the meat quickly over a high heat. This may be best done in 2-3 batches. With the last batch of meat, add the curry paste and cook until fragrant.
Into the slow cooker put the beef and curry paste, onions, garlic, kumara, coconut milk and stock and cover with the lid.
Cook on low for 5-6 hours or on high for 3-4 hours. Stir in the peas and coriander, re-cover and continue cooking on high for a further 15-20 minutes.
Serve in bowls garnished with shredded coconut and chopped tomatoes. Accompany with steamed rice and prawn crackers.
Cooks Tips
- Massaman curry paste has a rich flavour that comes from a blend of ingredients including chilli, cinnamon, nutmeg, white pepper, cardamom, lemon grass, galangal and of course chillies and garlic. It's available at specialty Asian food shops. Alternatively, use Penang or Thai red or green curry paste. Variations: - Use pork or boneless chicken leg and thigh portions in plac eof beef. - Use potato or pumpkin in place of kumara. - Add 3-4 bruised lemon grass stalks or 2-3 kaffir lime leaves to add a sweet lemon and lime note, particularly nice with pork.