Add to Cookbook

Tandoori-inspired roast chicken with pear and tamarind chutney
15 minutes
45 minutes
5-6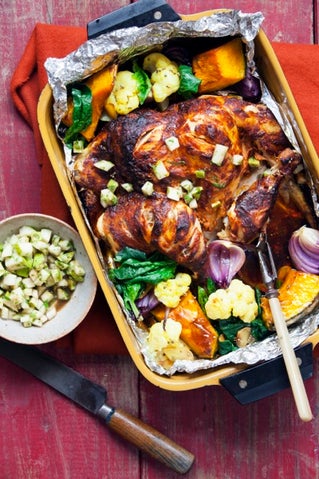 Cooking the chicken in a very hot oven will create a look similar to a chicken cooked in a tandoor. Pear chutney is a refreshing change to the ubiquitous mango chutney.
Ingredients
1 whole chicken
3 tablespoons tandoori paste
2 tablespoons plain unsweetened yoghurt
400 grams firm-textured pumpkin
2 red onions, peeled
1 teaspoon minced ginger
Pear and tamarind chutney
3 tablespoons tamarind paste
½ cup warm water
1-2 ripe pears
2 tablespoons chopped fresh parsley or coriander
2 teaspoons brown sugar
grated rind 1 lime or lemon
Method
Preheat the oven to 220ºC. Line a shallow-sided roasted tray with foil.
Cut the back-bone out of the chicken, discard and flatten the chicken a little by pressing down on the breast bone. Use a large cook\'s knife to make 6-7 deep slashes in the chicken through to the bone.
Mix the tandoori paste and yoghurt together; spread liberally over both sides of the chicken, massaging into the deep cuts. Place on the prepared tray.
Cut the pumpkin into large pieces and the onions into chunky wedges. Toss with the ginger and a dash of oil and arrange around the chicken.
Roast in the preheated oven for 45 minutes. If the paste on the chicken begins to burn, cover chicken with foil. Serve with rice and the vegetables, adding steamed spinach and/or cauliflower to the mix. Scatter over the Pear and Tamarind Chutney.
Pear and Tamarind Chutney
Mash the tamarind paste in the warm water to make a thick slurry; strain to remove fibres. Dice the pears, peeling if wished, and toss with the tamarind, herbs, brown sugar and lime or lemon rind.