Add to Cookbook

Tamarillo struesel cake
15 minutes
1¼ hours
Makes 1 cake or serves 8 as a dessert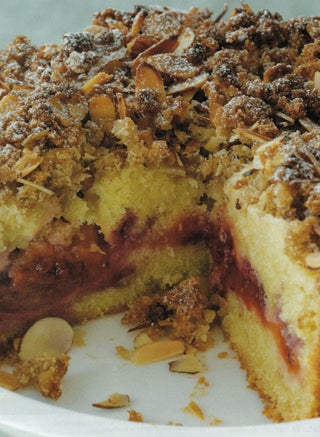 Perfect with a morning coffee.
Ingredients
250 grams butter
¾ cup caster sugar
2 eggs
1¾ cups flour
1 teaspoon baking powder
¼ cup milk
4-5 tamarillos, blanched and peeled
Struesel topping
50 grams butter
2 tablespoons brown sugar or honey
½ cup sliced or flaked almonds
¼ cup desiccated coconut
1 cup fresh white breadcrumbs
½-1 teaspoon mixed spice
Method
Preheat the oven to 180ºC. Grease and line a 20cm round cake tin.
Beat the butter and sugar together until light and fluffy. Beat in the eggs one at a time, beating well after each addition.
Fold in sifted dry ingredients alternatively with the milk. Cut the tamarillos into small chunks and gently stir through. Transfer the mixture to the prepared tin and level off.
Bake in the preheated oven for 15 minutes. Open the door gently and scatter the struesal mixture over the cake. Quickly but gently close the oven door and continue cooking for a further 50 minutes or until the cake is cooked when tested with a skewer.
Stand in the tin for 10 minutes before turning out onto a cake rack to cool. Serve warm with custard or cool with whipped cream.
Struesel topping
Rub all the ingredients together until well mixed.
Cooks Tips
- See tamarillo chutney recipe for instructions on blanching. - Place a piece of baking paper over the top of the cake if the struesel browns too quickly. - Eggs at room temperature will beat into a creamed butter and sugar mixture substantially better than if taken straight form the fridge.