Add to Cookbook

Tamarillo And Cinnamon Muffins
20 minutes
18-20 minutes
Makes 18 standard muffins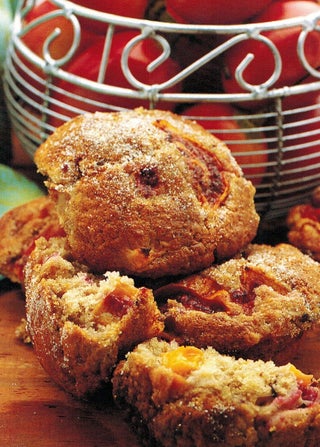 Ingredients
5 tamarillos, blanched and peeled
3 cups flour
¾ cup sugar
2 tsp baking powder
1 tsp baking soda
1 tblsp ground cinnamon
1 cup sour cream or yoghurt
2 eggs
¾ cup milk
100 grams butter melted
cinnamon sugar topping
2 tablespoons butter, melted
1 tablespoon sugar (caster is best)
1 teaspoon ground cinnamon
Method
Dice four tamarillos finely. Cut the remaining one into 6 wedge style slices, then slice each crosswise in thirds. Set aside for topping.
In a bowl sift the flour, sugar, baking powder, baking soda and cinnamon and make a well in the centre.
Mix the sour cream or yoghurt, eggs and milk together. Fold into the dry ingredients with the butter and chopped tamarillos and stir gently with a slotted spoon.
Divide evenly among 12 well-greased muffin cups and place a piece of tamarillo on top.
Bake at 200°C for 18-20 minutes until well risen and golden.
Remove from the oven and brush the tops with melted butter. Mix the sugar and cinnamon together and sprinkle evenly over the top.
Cooks Tips
To blanch a tamarillo, make a shallow cross in the base of the tamarillo. Plunge into boiling water for about 1 minute - the skin will split. Plunge into cold water and when cool enough to handle, peel the skin away. When buying tamarillos, make sure the stalks are green and not dark and dry, that the calyx is attached and there is no green skin around the calyx as this means the fruit will not ripen and the flavour will be inferior.