Add to Cookbook

Tabbouleh with Chicken and Roast Vegetables
10 minutes
15-20 minutes
4-5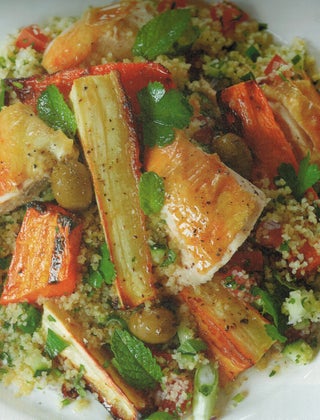 Tabbouleh - bulghur wheat salad, now prepared in various guises, is a mainstay salad at delicatessen serve-overs. Plump reconstituted cracked wheat tossed with diced tomatoes, onion, parsley and mint is traditionally served with a sharp lemon-juice dressing, giving the finished salad a real bite, especially delicious in summer. The salad hails from the Eastern Mediterranean and other foods can be added to jazz up a basic supermarket tabbouleh. Chopped roasted nuts – pistachio, cashew, almonds – olives, oregano, little chopped preserved lemon, or, to make a one-bowl substantial meal, add roasted vegetables and meat, like chicken or fish and maybe a few rocket leaves for colour; it's my favourite way to serve tabbouleh.
Ingredients
500-600 grams carrots, pumpkin and/or parsnip, peeled
1 deli-roasted chicken, warm or cold
300-400 grams prepared tabbouleh salad
handful fresh mint leaves, torn
handful olives
½ cup your favourite vinaigrette
Method
Preheat the oven to 200ºC. Line an oven tray with baking paper.
Cut the vegetables into chunks and toss in a dash of oil then scatter on to the prepared tray. Cook in the preheated oven for 15-20 minutes until tender and well-browned.
Pull the meat from the deli-roasted chicken into chunky bite-sized peices and toss with the roast vegetables, tabbouleh, mint leaves, olives and vinaigrette. Serve warm or cold.