Add to Cookbook

Sweet devilled chicken casserole
25 minutes, marinating time perferably overnight, 4 hours minimum
low 5-7 hours, high 3-4 hours, plus extra 30 minutes
6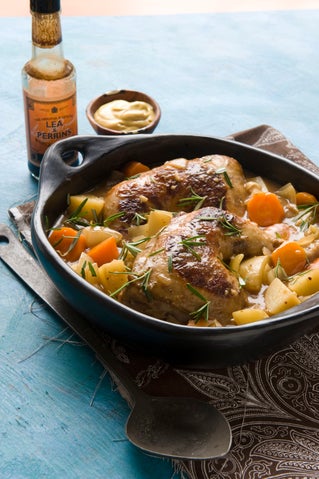 Devilling food has long fallen out of fashion over the years, probably in part because other flavourings and condiments have become available. It once referred to foods cooked with hot fiery spices or condiments. Mustard as and still is a key ingredient in devilling foods (being one of the earliest, readily available condiments), especially in devilled kidneys. Foods that were reheated were regularly devilled - served in a fiery hot sauce or coating. I quite like the flavours of devilled foods, especially where they include Worcestershire sauce - a hark back to the day of the Raj.
Ingredients
¼ cup Worcestershire sauce
3 tablespoons mustard powder
3 tablespoons mango chutney or brown sugar
6 chicken leg and thigh portions
3-4 waxy potatoes, washed and roughly chopped
2-3 carrots, peeled and sliced
2 onions, peeled and sliced
1-2 teaspoons minced garlic
2 cups chicken stock or water
3 tablespoons instant gravy powder
Method
Mix together the Worcestershire sauce, mustard powder and chutney or brown sugar.
Put the chicken into a sealable bag and pour in the marinade. Seal and turn to coat evenly. Alternatively, place the chicken in a dish, coat with the marinade and cover. Allow the chicken to marinate overnight if possible or for at least 4 hours.
Turn the slow cooker on to low to pre-warm while gathering and preparing the remaining ingredients.
If wishing to brown the chicken, remove the chicken from the marinade, reserving the marinade. Brown the pieces on both sides in a dash of oil in a frying pan.
Into the pre-warmed slow cooker put the chicken and marinade, potatoes, carrots, onions, garlic and stock or water and cover with the lid.
Cook on low for 5-7 hours or on high for 3-4 hours, or until the chicken and vegetables are all wel cooked.
Carefully transfer the chicken from the slow cooker to a warm plate and cover.
Mix the gravy powder with a little water to make a smooth thick paste and stir into the slow cooker. Sit the chicken back on top and cover. Cook on high for an extra 30 minutes to thicken the sauce.
Serve the chicken with the vegetables and gravy, garnished with fresh herbs.
Cooks Tips
Variations - Use beef in place of chicken. Use about 1.5 kilograms of diced cross-cut blade or chuck steak. Cooking time will be similar. - For the best flavour, use a gravy powder that is suited to serve with chicken or light meats as opposed to beef, which will be too strong.