Add to Cookbook

Swamp Water Punch With Deadman's Fingers
20 minutes, freezing time: overnight
Makes 5½ litres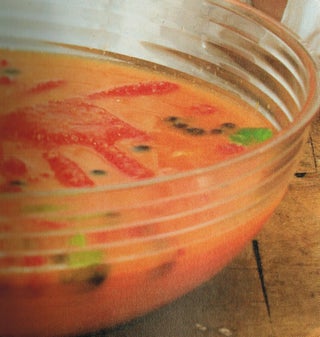 Trick or treating is thirsty work all the children will enjoy this refreshment.
Ingredients
4-5 disposable handy gloves
1 litre fresh berry juice
1.5 litres raspberry or cranberry juice
3 cups orange juice
1.5 litres lemonade
fruit such as strawberries or raspberries(can be frozen, defrosted)
orange slices
mint leaves
Method
Rinse handy gloves thoroughly inside and out with hot water and drain thoroughly.
Combine chilled raspberry or cranberry juice, orange juice and lemonade in a large punch-style bowl.
Remove frozen \"deadman\'s fingers and hands\" from the gloves. Cut the gloves if necessary and discard.
Place frozen \"deadman\'s fingers and hands\" in punch, garnish with orange slices, strawberries or raspberries and fresh mint leaves.
Serve immediately.