Add to Cookbook

Summer Rhubarb, Rapsberry and Rosehip Jelly
10 minutes
Chilling time - 4 hours
4-6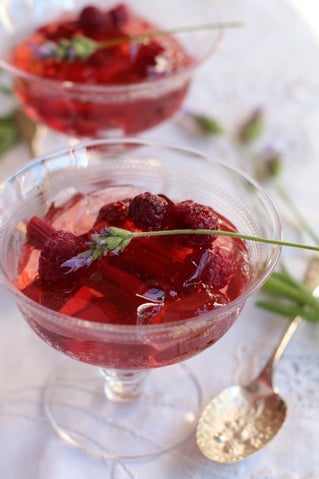 Fresh fruit jellies are a country mile away from commercially prepared jelly mixes, but they take time to prepare. Using Barkers of Geraldines new Rhubarb, Raspberry and Rosehip low calorie fruit syrup, you can prepare a refreshing summer jelly in minutes and the finished dessert, when served with fresh fruits, is incredibly chic.
Ingredients
4 teaspoons gelatin
1/2 cup water
2 cups cooled, boiled water
1 cup Barker's Rhubarb, Rasberry and Rosehip Syrup
Method
Sprinkle the gelatin over the first measure of water and set aside to swell and become jelly like. Heat in the microwave for 10 seconds or until the gelatin melts and is clear.
Stir together the dissolved gelatin, cold water and syrup. Transfer to a 1 lire capacity bowl and refrigerate for 4 hours or until set. Serve with poached seasonal fruits.
Note: For a sweeter tasting jelly, stir 1/4 cup caster sugar into the cooled boiled water, stirring until dissolved. For those who like lavender, warm the cooled boiled water with a few lavender heads to scalding point. Cool , strain and use.